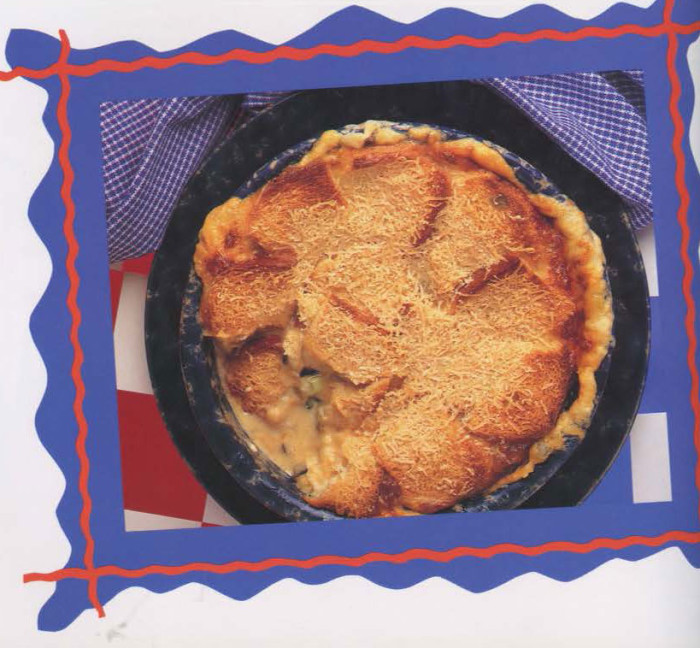 Is this busy week, you may not want every meal day to be a heavy one. And, you may need a recipe that can impress folks yet demand little time and effort. You may even want to avoid meat, doing a little voluntary abstinence for that turkey.
Here's a very lovely idea from HOT! by Judith Choate. This is her spin on the classic Italian strata but with a definite Southwestern twist. Feel free to increase the amount of canned green chiles or the cayenne pepper. Just don't go overboard. You have a lot to do this week!
I said this meal was quick. I did not exactly lie. The total prep time is brief but there is a four-hour, or longer, intermission while the strata has to chill before baking. You can assemble this dish just after your morning coffee or your lunch ice tea. The baking time totals 60 minutes and the aroma will fill your kitchen if not your entire home.
I don't think this is a wine dish. Beer. Very cold beer to go with the green chiles.
---
Chile Cheese Strata

Yield: serves 6

Ingredients:

¾ pound Cheddar cheese, grated
¾ pound Fontina cheese, grated
¼ cup minced scallion
¼ cup minced, drained, canned green chiles
2 tablespoons minced sun-dried tomatoes packed in oil
2 cups milk
1 cup heavy cream
4 large eggs
1 teaspoon dry mustard
1 teaspoon Worcestershire sauce
¼ teaspoon cayenne pepper
Pinch ground nutmeg
Salt (to taste)
Pepper (to taste)
Preparation:

Combine cheeses, scallion, chiles, and sun-dried tomatoes. Set aside.
Combine milk, cream, eggs, dry mustard, Worcestershire sauce, cayenne pepper, nutmeg, salt, and pepper. Set aside.
Generously butter a 2-quart soufflé dish. Place a layer of bread on the bottom of prepared soufflé dish. Cover with one third of the cheese mixture. Make 2 more layers of bread and cheese, then end with a final layer of bread. Pour egg mixture over the top and refrigerate for 4 hours.
Preheat oven to 350°F.
Place Cheese Strata in preheated oven and bake for 30 minutes. Remove from oven and sprinkle with Parmesan cheese. Return to oven and bake for an additional 30 minutes or until a knife inserted in the center comes out clean and the Strata is puffed and lightly brown. Serve immediately.
Note: Remember when seasoning the Strata that cheese and tomatoes are salty.
---
Source: HOT! by Judith Choate [Kenan Books, 1992]