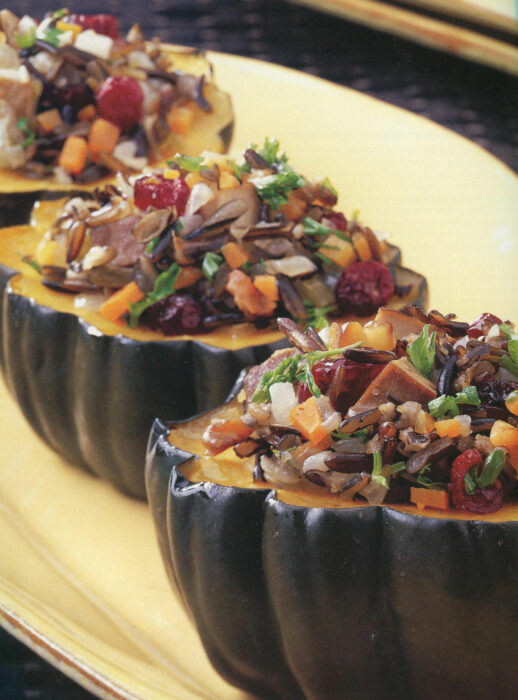 I know. Turkey, stuffing, mashed potatoes, and gravy are the centerpiece of the Thanksgiving table. Time to nudge them aside. He's a side dish with color and character. It's quite beautiful and, quite honestly, could be the main course. But, it's Thanksgiving so we can double down. Or triple down on how much we eat over the course of the Thanksgiving hours.
As the first course, this will be a stuffing introduction to the meal. Yes, there is an ingredient here, hickory-baked tofu, which you can find in health food stores. Or, if you are a bit tofu shy, just leave it out. There's plenty of flavor here. And you'll be rolling that turkey and stuffing up anyway!
---
Acorn Squash Stuffed with Wild Rice, Cranberries, Walnuts and Hickory-Based Tofu
Yield: serves 8
Ingredients:
4 acorn or dumpling squash
¼ teaspoon salt, plus extra to taste
Freshly ground pepper
Freshly ground nutmeg
4 tablespoons unsalted butter
1 ½ cups wild rice
1 ¾ cups vegetable broth [ideally homemade]
3 tablespoons olive oil
1 large yellow onion (about 12 ounces), finely chopped
2 cloves garlic, minced
2 large ribs celery, finely chopped
1 large carrot, peeled and finely chopped
1 tablespoon minced fresh sage
1 tablespoon fresh thyme leaves
½ cup minced fresh parsley
1 package (6 ounces) hickory-baked tofu, cut into ¼ inch dice
¾ cup chopped walnuts, toasted
3/4 cup sweetened dried cranberries
Preparation:
Preheat the oven to 350°F. Cut each squash in half crosswise.
Scoop out and discard the seeds and strings. If necessary, trim the top and bottom so that the squash will sit level, and place on a rimmed baking sheet, cut-side up. Sprinkle each half with a little salt, pepper, and nutmeg to taste. Using 2 tablespoons of the butter, dot each half with some butter. Cover the pan with foil and bake the squash just until moist and tender, about 45 minutes.
Meanwhile, combine the rice, vegetable broth, '/< teaspoon salt, and 2 cups of water in a medium saucepan. Bring to a boil over medium-high heat. Reduce the heat to a simmer, partially cover, and cook, stirring occasionally, until the rice is tender, about 40 minutes.
In a 10-inch sauté pan, heat the olive oil over medium heat. Swirl to coat the pan and sauté the onion, garlic, celery, and carrot until slightly softened, about 3 minutes. Cover the pan, adjust the heat to medium-low, and cook the vegetables until crisp-tender, 5 minutes longer. Add the sage, thyme, and parsley and sauté 1 more minute. Remove from the heat.
In a large bowl, combine the cooked rice, sautéed vegetables, tofu, walnuts, and cranberries. Taste and add more salt and pepper, if desired. Mound the rice mixture into the squash halves, dividing it evenly. Cut the remaining 2 tablespoons of butter into small pieces. Dot each stuffed squash with butter. Cover with foil.
Bake at 350°F until heated through, about 20 minutes.
---
Source: The Thanksgiving Table by Diane Morgan [Chronicle, 2001]