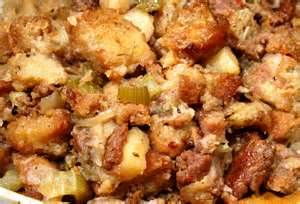 In the groundbreaking book  Around my French Table, one recipe by Dorie Greenspan went viral: a stuffed pumpkin. We've taken that stuffing and adopted it just a tad and for turkey. We first posted this blog in 2010, and here it is again. Don't have all the ingredients? Well, improvise or find one of those markets that are open until 3PM. You'll find this is "your stuffing" from here on out. This is, of course, a stuffing to back on the side, not in the turkey. Food scientists, nutritionists and emergency responders will all tell you the same things: don't stuff the turkey with stuffing. You can toss in herbs or some lemon halves, but bake the stuffing separately.
This recipe is for 4 people. Please scale appropriately for your family size, your party size, or you appetite. And, of course, if you want leftovers the next day or so, then ….
Suzen and I wish you the happiest of holidays.
Thanksgiving Stuffing 2010 and Now 2012
Yield: 4 servings
Ingredients:
¼ pound stale bread, thinly sliced and cut into ½-inch chunks
¼ pound cheese, such as Gruyère, Emmenthal, cheddar, or a combination, cut into ½-inch chunks
2–4 garlic cloves (to taste), split, germ removed, and coarsely chopped
1 chorizo sausage, cooked until crisp, drained, and chopped (my addition)
1 Granny Smith apple, peeled, cored and sliced.
About ¼ cup snipped fresh chives or sliced scallions (my addition)
1 tablespoon minced fresh thyme (my addition)
About ⅓ cup homemade chicken stock
Pinch of freshly grated nutmeg
Preparation:
Preheat the oven to 350˚F. Grease a 1 ½-quart baking dish.
Toss the bread, cheese, garlic, sausage, apple and herbs together in a bowl. Season with pepper — you probably have enough salt from the sausage and cheese, but taste to be sure. Stir in the chicken stock with the nutmeg and some salt and pepper and pour into the baking dish. You might have too much or too little liquid— you don't want the ingredients to swim in the stock, but you do want the bread nicely moistened. (It's hard to go wrong here.)
Bake for 60-90 minutes. Check after 60 minutes. You want the mixture dry and the bread just crisping.
Source: Inspired by Around My French Table by Dorie Greenspan