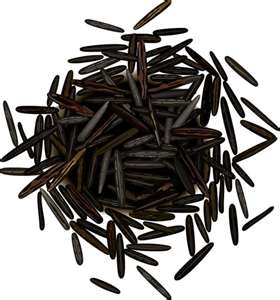 "Our garden herbs are still fresh, right?" I asked.
"Yes," Suzen said.
"And you love pine nuts, right?"
"What do you want, Brian." She was now on alert.
"Well, I found this stuffing recipe that uses them and I just thought …"
"Let me see," she asked and extended her hand for the cookbook I was holding.
"Oh," she continued, "wild rice. Yum, my favorite." She handed me back the book.
She is not a fan of wild rice. I am. We will not be cooking this stuffing this year, or probably any other. Normally, I don't blog a recipe Suzen and I haven't tested, but this comes from Diane Morgan, so we know this recipe will work. I know this recipe will be delicious. I just hope that someone, somewhere is able to enjoy what I am not. If you'd just like to drop me a note telling me how wonderful it was, well, that would give me some satisfaction.
I have to stop blogging now. I have bread crumbs to make. For stuffing. I wonder if I can cut them into the shape of little rice grains?
Wild Rice Stuffing with Pine Nuts, Dried Apricots, and Fresh Herbs
Yield: serves 6 to 8
Ingredients:
2 cups wild rice
2 cups chicken stock or canned low-sodium chicken broth
½ teaspoon salt
½ cup pine nuts
¾ cup dried apricots, quartered
5 tablespoons unsalted butter
2 large ribs celery, finely chopped
2 large carrots, peeled and finely chopped
1 medium yellow onion (about 8 ounces), finely chopped
1 tablespoon fresh thyme leaves
1 tablespoon minced fresh sage
½ cup minced fresh parsley
Freshly ground pepper
Preparation:
In a medium saucepan, combine the rice, stock, and 1/4  teaspoon of the salt, and add 2 cups of water. Bring to a boil over medium high heat.
Reduce the heat to a simmer, partially cover, and cook, stirring occasionally, until the rice is tender, about 40 minutes. (Not all of the liquid will be absorbed.)
Meanwhile, place a small, heavy skillet over medium-high heat. When it is hot, but not smoking, add the pine nuts. Stirring constantly, toast them until nicely browned, about 3 to 5 minutes. Transfer to a plate and set aside to cool.
Place the dried apricots in a small bowl, add hot water to cover, and allow to plump for 20 minutes. Drain and reserve.
In a 10-inch sauté pan, melt 4 tablespoons of the butter. Swirl to coat the pan and sauté the celery, carrots, and onion until soft and lightly browned, about 5 minutes. Add the thyme, sage, and parsley and sauté 1 more minute. Remove from the heat.
Preheat the oven to 350°F. When the rice is tender, add the sautéed vegetable mixture to the rice. Add the reserved pine nuts and apricots, and stir to combine. Add the remaining ¼ teaspoon of salt, and a few grinds of pepper. Taste and adjust the seasonings.
Use the remaining 1 tablespoon of butter to grease an oven-to-table casserole dish. Spoon in the rice stuffing and cover. Twenty minutes before serving, bake the stuffing until heated through. (The stuffing can be made up to 1 day in advance. Refrigerate, covered, and bring to room temperature 1 hour before baking. Increase the baking time to 40 minutes to insure it's heated through.)
Source: The New Thanksgiving Table by Diane Morgan