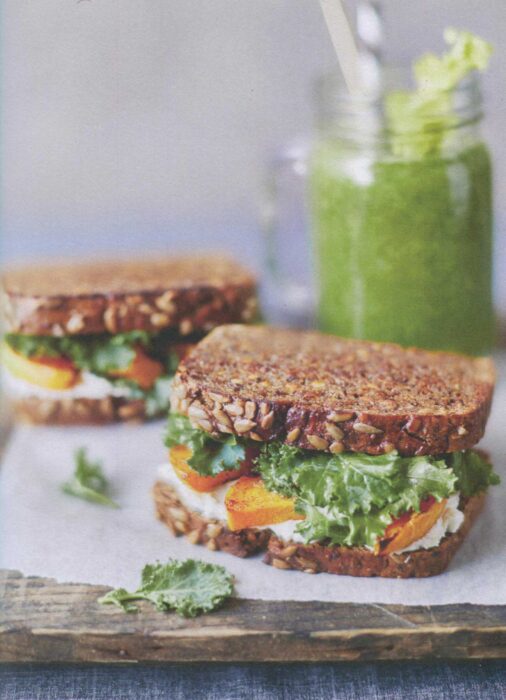 There is a wonderful new cookbook out, The Grilled Cheese Cookbook by Becks Wilkinson. I'll have the cookbook review for you in a day or two. But, to whet your appetite, here's one idea that truly stretches the "concept" of a grilled cheese sandwich. The rye bread is here, as always, but now with goat cheese and butternut squash and kale as the main ingredients.
As the picture shows, this is a multilayer delight that will have you sensing different flavors as you bite through each level.
Not a kale fan? Okay try lettuce. Do you like grilled cheese but have a longing for a BLT? Well, I think you could jam in a layer of tomato or bacon. Both of those? Honestly, I can't get my mouth open that wide.
Start with this gem and see how sparkling the ideas are in The Grilled Cheese Cookbook.
---
The Hipster
Yield: 2 sandwiches
Ingredients:
½ butternut squash, peeled
1 tablespoon olive oil
½ teaspoon dried chili flakes
½ teaspoon ground nutmeg
½ teaspoon paprika
handful of baby kale, torn and stalks removed
juice of I lemon
2 tablespoons softened butter
4 slices of seeded rye bread, ¾ inch thick
125g (4 ½ oz) soft goat cheese
salt and freshly ground black pepper
Preparation:
Preheat the oven to 350°F.
Finely slice the squash, aiming for slices about ½ inch thick. Thin slices will caramelize and cook quickly.
Use your hands to the rub the oil and spices all over the squash slices, and give a good sprinkling of salt and pepper. Place in the oven and roast for 15 minutes until soft, sticky and golden, turning several times.
Meanwhile, place the kale in a bowl and stir through the lemon juice. This will help to soften it slightly.
Butter the bread, then turn the slices over. Loyer the goat cheese, kale and squash on two slices of bread. Top with the other slices, butter-side up, and press down.
Place a non-stick frying pan over a medium-high heat and carefully lift the sandwiches into the pan. Cook for 5 minutes on each side until golden brown. The cheese can get very runny if overcooked; if it's getting too messy to melt it in the pan, you can pop it in the oven at 350°F for 8-10 minutes instead.
Source: The Grilled Cheese Cookbook by Becks Wilkinson