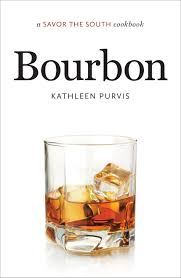 Looking for something different for your Thanksgiving table? Here's a sauce full of sweet fire for that turkey meat.
The University of North Carolina Press has a series of cookbooks, Savor the South, that are notable for their quality and inspiration. Each of the books is slim, about 50 pages, but conveys the full potential of its topic. The books focus on single items: peaches, buttermilk, biscuits, pecans, tomatoes, …
And now Bourbon. Bourbon does offer cocktail recipes of course, but there are appetizers and main dishes, sides and sauces. And desserts: pecan bourbon balls, bourbon pecan pie, maple bourbon ice cream, and many more.
For your Thanksgiving enjoyment, consider the recipe below for Tipsy Jezebel Sauce. Author Kathleen Purvis takes the classic Jezebel Sauce recipe and spikes it up. You can serve it with cream cheese on crackers, or glaze a pork loin, or serve on the side with your Thanksgiving turkey.
You might want to leave out the horseradish and mustard then serve a "diluted" version on ice cream or cake.
This recipe makes 2 ½ cups. You'll quickly find uses for every single teaspoonful.
Oh, the name? Jezebel? No one knows for sure although some suspect it was inspired by Bette Davis play a hot and sweet character in the movie Jezebel.  We'll never know.
Tipsy Jezebel Sauce from Bourbon
Yield: 2 ½ cups
Ingredients:
1 12-ounce jar pineapple preserves
1 cup apple jelly
½ cup apricot preserves
2 tablespoons prepared horseradish
2 tablespoons Dijon mustard
3 tablespoons bourbon
Preparation:
Whisk all the ingredients together. Refrigerate until ready to use. It will keep for weeks.
Source: Bourbon by Kathleen Purvis, a Savor the South Cookbook from the University of North Carolina Press.