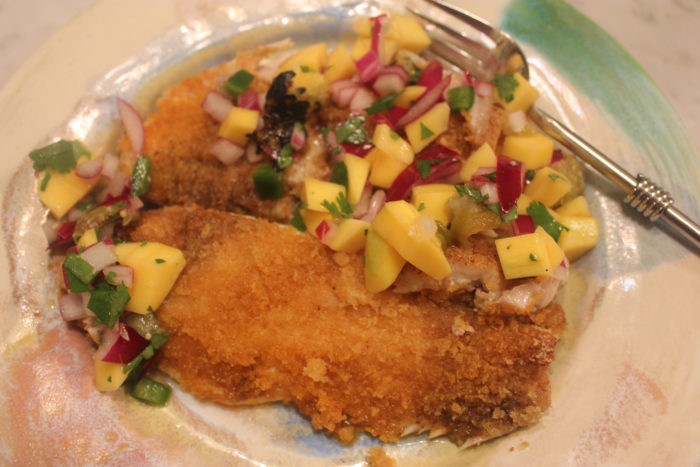 I love trout. Pan-fried and served with splashes of lemon juice, the taste of trout is distinguished and unforgettable.
Now, this recipe is different. The prominence of the trout flavor itself is muted. It's there, it's there, but there are so many other flavors that complement and expand the fish experience.
The trout is topped with mango salsa. I provided a simple recipe for that yesterday and you can find it here. The trout itself is coated in breadcrumbs before being cooked. So, instead of each bite being simple trout meat, you now first experience the crunch of crust. This is a New Orleans recipe, from Todd Masson, so I used Cajun-spiced bread crumbs.
The original recipe calls for trout fillets. My picture shows that I used a whole trout. I cut off the head and tail, removed any bones, and spread it open when I placed it in the dish with olive oil, as described in the recipe below.
The crumbs I used had spice. The mango salsa had jalapeno and tomatillo. Consequently, this dish has heat, so a cold beer is the perfect beverage.
---
Brian's Mango Salsa by the Ones
Yield: serves 5
Ingredients:
4 trout fillets
½ cup olive
¼ stick butter
Old Bay seafood seasoning
½ cup seasoned bread crumbs [Cajun, garlic, …]
Mango salsa [see the recipe here]
Preparation:
Pour olive oil into glass baking dish large enough to hold the fillets. Rinse fillets and use paper towels to get them completely dry. Lay in parallel strips over oil in baking dish. Sprinkle seafood seasoning (our favorite is Louisiana Fish Fry Cajun Seasoning) over fish.
Cut butter into small cubes and place a cube or two on each fillet. Top each fillet with a dusting of seasoned bread crumbs. Place directly under preheated broiler set on high. If cooking two pans, do them in succession rather than simultaneously to allow each to be directly under broiler. Broil for 10 minutes and remove immediately.
To serve, lay two fillets on plate, and top with mango salsa. Serve immediately.
---
Source: https://www.nola.com/food/index.ssf/2015/07/todd_massons_trout_with_mango.html
Photo Information: Canon T2i, EFS 60mm Macro Lens, F/3.5 for 1/30th second at ISO‑30