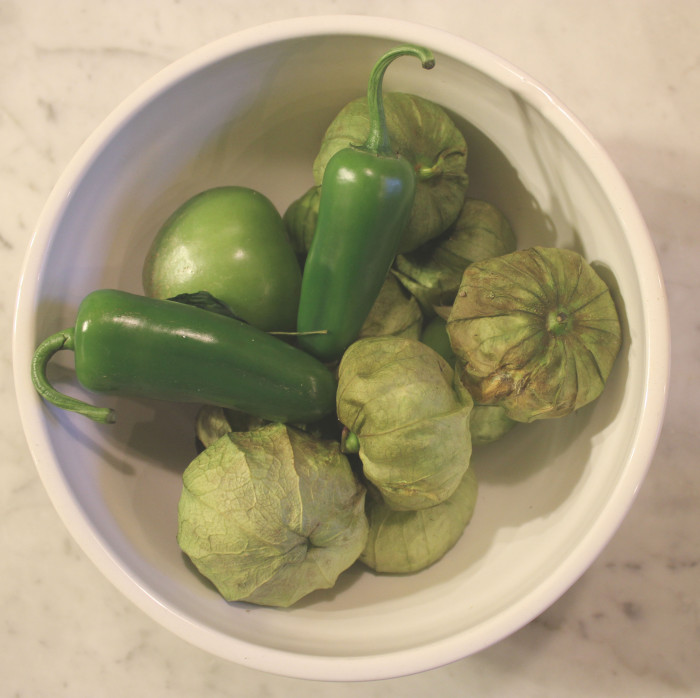 For this tomatillo week, I've had lots of fun exploring page after page of tomatillo recipes. There are salsas aplenty, of course, but it's been enlightening to find other tomatillo uses — ones that just would not have popped into my head.
Here, for example, is a Tomatillo Salad Dressing using lots of ingredients you love but now assembled in this new dressing combination. This is a sour dressing with the tomatillo and sour cream and buttermilk. I can see it spread across a pile of lettuces greens, tomato and onion slices. But, I think this would even more interesting atop a wild rice salad strewn with chunks of duck or turkey meat.
I tried to take a picture of my salad with this dressing but I encountered a standard problem. Photographing liquids is very hard. I literally could not get the camera to focus on the dressing. One Day 1, the dressing is very watery. However, as I later discovered, on Day 2 the buttermilk has taken effect and the dressing is far more creamy. I suggest making the dressing a day ahead.
And the taste? Spicy, if not outrigth hot. That one jalapeno, with seeds, is plenty. For my tasting, I went simple: lettuce, tomato and onion. With this dressing, the salad was exceptional and felt "complete." Of course, nothing is ever really complete. I was thinking about some bacon chips, made from bacon baked with maple syrup and brown sugar. Next time.
Try this dressing yourself, fall in love, and start exploring its vast potential.
I'm serious about that turkey. I'm putting this in my "Thanksgiving Leftovers" folder.
---
Tomatillo Salad Dressing

Yield: 2 ½ cups

Ingredients:

4 tomatillos, roughly chopped
¼ cup roughly chopped scallions
2 cloves garlic, peeled
1 jalapeno pepper, roughly chopped with seeds
1 cup mayonnaise
1 cup sour cream
⅓ cup buttermilk
½ bunch fresh cilantro, leaves picked
Juice of 2 limes
1 ½ teaspoons salt
Preparation:

Place the tomatillos, scallions, garlic, jalapeno, mayonnaise, sour cream, buttermilk, cilantro, lime juice, and salt in blender and blend until smooth. Store leftover dressing, covered tightly, in the refrigerator for up to 1 week
Source: Kelsey Nixon on food.com
Photo Information: Canon T2i, EFS 60mm Macro Lens, F/4 for1/30th second at ISO‑640