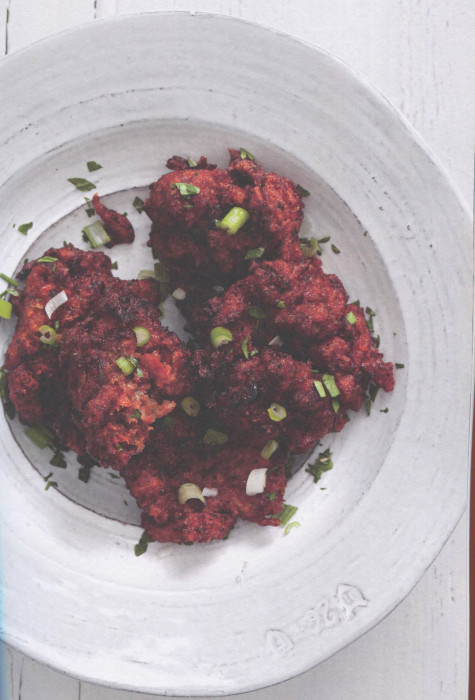 Do you deep fry at home? Suzen and I do, but rarely. There's the mess and smell and even the smell the next day. But, there are times when those negative considerations have to take a back seat to a dish that looks far too tempting. From The Islands of Greece by Rebecca Seal comes this recipe from the island of Santorini.
You've seen Santorini a thousand times, even if the name does not seem familiar. It's that island/town where the village is pure white, perched high over an azure bay. The town is iconic. And so is this recipe.
Here, you use a combination of both fresh and sun-dried tomatoes, something I've never seen before. Scallion and of course mint are part of the batter along with oregano and parsley. On other islands, some chopped garlic is added and even a little cheese. This is a dish where you can go out into your herb garden and ask, "What's ready today?"
Suzen and I have a deep fryer and we have table outside where we can make a mess and let the fumes waft away. We'll wait for the local tomatoes to ripen, then give this recipe a spin.
---
Tomato Fritters from Santorini

Yield: makes 20

Ingredients:

3 ½ ounces sun-dried tomatoes, dried or preserved in oil
14 ounces tomatoes
3 spring onions (scallions), finely chopped
1 tablespoon finely chopped parsley leaves, plus more to serve
1 tablespoon finely chopped mint leaves
Generous pinch of dried Creek oregano
¼ teaspoon baking powder
¾ cup plain (all-purpose) flour
Vegetable or olive oil for frying
Salt, to taste, if needed
Preparation:

If using dry tomatoes, rehydrate them in hot water for 20 minutes. If using sun-dried tomatoes in oil, drain off the oil. Deseed the fresh tomatoes, over a bowl to retain the juice. Strain off the juice and discard the seeds. Using a food processor or stick blender, briefly blitz together the juice, fresh and dried tomatoes, 2 of the spring onions, the herbs and baking powder; you don't want a puree but a chunky batter. Next, gradually mix in the flour (you may not need it all, though you may need more if your tomatoes are very juicy). The batter should be loose, but not so sloppy that it won't hold together at all.
Heat around 2 ounces of oil in a high-sided saucepan over a medium heat, until it reaches 350°F on a pan thermometer, or a cube of day-old bread dropped into it sizzles and browns in 30 seconds. Take a small spoonful of batter and drop into the oil. Cook for a couple of minutes, then cool and taste for seasoning. Some sun-dried tomatoes are salty but, if yours are not, add salt to taste to the remaining batter.
Drop tablespoons of batter carefully into the hot oil, two or three at a time (if the pan is crowded the oil will cool and the fritters will be greasy). Cook for 3 to 3 ½ minutes, turning if necessary, until they are cooked through and golden brown. Sprinkle with parsley and the remaining spring onion to serve.