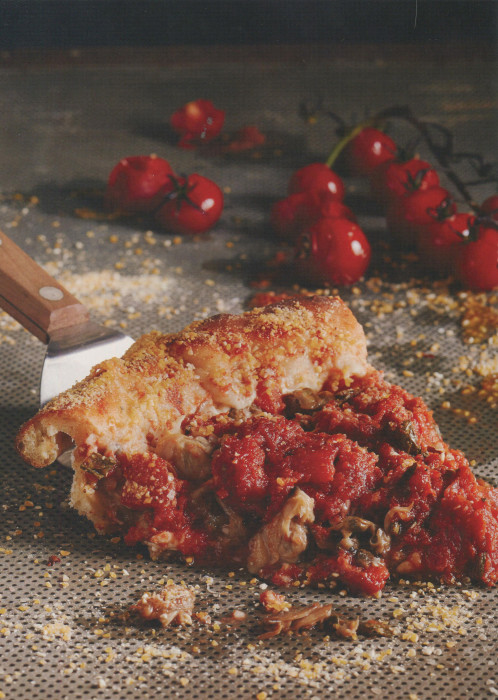 Last Saturday I posted an "unconventional" pizza from The United States of Pizza by Craig Priebe and Diane Jacob. Craig toured the country to find outstanding, and often rather different pizzas.
Last week it was Green Chile and Pork. This week it is Trenton Tomato Pie with Baby Clams from Delorenzo's Pizza in Hamilton, New Jersey.
If you follow this blog, you know I rarely post things with clams or scallops. The reason? I'm allergic. I can eat shrimp and crab from breakfast to midnight. But clams? Uh, not good.
Still it is selfish of me to make this a clam-free zone. So, for all of your clam and pizza lovers, have at it.
The recipe begins with a Corn Flour Pizza Dough. You can substitute your own pizza dough if you wish, or, go with the tide, and get your own copy of The United States of Pizza. There are many lovely pizza, and crust, ideas for you to explore.


---
Trenton Tomato Pie with Baby Clams

Yield: 1 12-inch pizza for 2-3 people

Ingredients:

Corn Flour Pizza Dough (page 140 in the book)
1 ½ cups chunky Tomato Sauce (yes, the book has a recipe, page 27!)
1 tablespoon extra virgin olive oil
½ cup minced onion
4 cloves garlic, minced
1 tablespoon dried oregano
1 28-ounce can baby clams, drained, or 36 fresh baby clams, shucked
Nonstick cooking spray
16 ounces fresh mozzarella, sliced into ½-inch-thick rounds
2 ounces grated Parmigiano Reggiano (½ cup)
Preparation:

Make the pizza dough at least 12 hours ahead.
Rest the dough on the counter until it comes to room temperature, about I hour. Make the chunky tomato sauce at least 1 hour before.
Move an oven rack to the lowest position. Preheat the oven to 500°F for 30 minutes.
Heat the olive oil in a medium skillet over medium-high heat. Sauté the onion, garlic, and oregano for I minute, then add the baby clams and toss to combine. Remove from the heat.
Spray a 12 x 2-inch deep-dish pizza pan with nonstick cooking spray. Shape the dough for this deep-dish pizza pan.
Top with the mozzarella. Sprinkle with ¼ cup of the Parmigiano Reggiano. Pour the clams over the cheese. Pour the tomato sauce on top and sprinkle with the remaining ¼ cup Parmigiano Reggiano.
Bake the pizza for about 30 minutes, until the crust is deep brown and the toppings are bubbling. Check underneath with a metal spatula to ensure the bottom crust is deep brown too. Let the pizza rest for 5 minutes. Cut it into 8 wedges and serve.


---
Source: The United States of Pizza by Craig Priebe with Diane Jacob [Rizzoli, 2015]