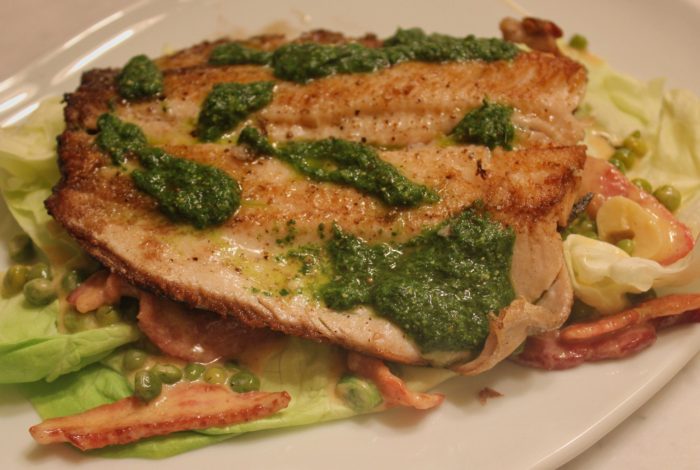 In The 2-Meal Day, author Max Lowery argues for eating fewer times a day for better health and energy. Since you eat less, each meal certainly has more psychological significance for you. Each meal must be good: satisfying to the senses and to the rest of your body, good enough to make you smile.
This recipe takes a little time. Besides the trout, you will be making a salad dressing and that dense green sauce that slides over the fish. The flavors here will make your mouth sparkle. And, you will be smiling!
This is a wonderful way to explore the flavor of spring peas. The wild trout desired in the recipe is surely better than farm raised, so do search for a source for that style of fish.
Trout with Bacon and Peas
Yield: serves 1
Ingredients:
For the dressing:
A handful of flat-leaf parsley
A handful of mint
A handful of basil
Pinch of salt
1 teaspoon English mustard
1 tablespoon organic cider vinegar
½ cup canola oil
For the sauce:
¼ cup white wine
1 garlic clove, finely sliced
Sprig of thyme
¼ cup fish stock
¼ cup heavy cream
2 tablespoons grass-fed butter
For the trout:
2 tablespoons canola oil, plus extra for the fish
2 to 3 slices thick-cut bacon, cut into ¼-inch strips
¼ cup fresh peas
Salt and freshly ground black pepper
1 scallion, finely chopped
7 ounces wild sea trout fillet
2 baby gem lettuce, separated into leaves
Preparation:
Start by making the dressing: Place the herbs in a mortar with the salt and mustard. Pound to a paste, then add the vinegar and oil.
To make the sauce, put the wine, garlic, and thyme in a saucepan over high heat and reduce for 5 minutes. Add the fish stock, reduce by half, then add the cream and bring to a boil. Finally, whisk in the butter.
Heat the oil in a separate pan and fry the bacon until golden.
Add the peas, season with salt and pepper, and then pour in the reduced fish sauce. Boil for 5 minutes, then add the scallion.
Pour a little oil onto a grill pan, season the trout, and cook for 2 minutes, skin-side down. Flip over and cook for 2 minutes.
To serve, place a few lettuce leaves on a plate, spoon on the peas, bacon, and fish sauce, place the fish on top, and drizzle with the herb dressing.
Source: The 2-Meal Day by Max Lowery [Kyle, 2017]
Photo Information: Canon T2i, EFS 60mm Macro Lens, F/4.5 for 1/60th second at ISO‑800