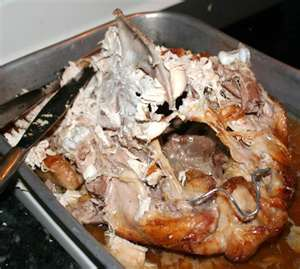 Your Thanksgiving meal is done. The football games are over. Guests are gone. Cleanup, sadly, is necessary.
Here is what NOT to do. Don't throw away that leftover turkey carcass. Even if most of the meat is devoured, save the carcass. You are about to make quarts and quarts of turkey stock for soup, sauces, and to give you a head start on the stock you'll need for that Christmas turkey!
First, remove any seriously large chunks of meat remaining on turkey. I'm talking about the ingredients for sandwiches tomorrow. But do not try to pick off every last pieces of meat. A purely naked carcass will produce a less rich stock. And, personally, I think dark meat scraps produce a better stock and they are already snuggly hidden on the bottom anyway.
Break the carcass into a half dozen pieces, using a knife at first and then just crushing with your hand. Use a mitt or glove to protect yourself from turkey bone shards. The last place you want to be late on Thanksgiving Day is the Emergency Room. You'll wait for hours as they deal with those idiots who just attempted their first deep frying experiment.
Yesterday's blog was about making stock from giblets. This stock is decidedly different, but honestly they are both wonderful and you'll enjoy them equally.
Full Carcass Turkey Stock
Yield: 4 to 5 quarts
Ingredients:
1 meaty turkey carcass, chopped into large pieces
2 medium carrots (do not peel), but cut into 2-inch chunks
1 large yellow onion (do not peel), cut in half
2 large ribs celery, with leaves, cut into 2-inch chunks
1 teaspoon black peppercorns
1 bay leaf
6 sprigs fresh parsley
2 sprigs fresh thyme
Preparation:
Put the chopped turkey carcass in an 8-quart stockpot and add cold water to cover, leaving 2 inches of space at the top of the pot. Bring to a boil over medium-high heat, then reduce the heat to maintain a steady simmer. Using a large spoon or soup skimmer, skim off the brown foam that rises to the top.
After 5 minutes or so, the foam will become white, and no more skimming will be necessary. Add the carrots, onion, celery, peppercorns, bay leaf, parsley, and thyme. Partially cover the pot and adjust the heat so the stock barely simmers. Simmer the stock for at least 2 but preferably 4 hours, adding water, if necessary, to keep the bones covered
Source: The New Thanksgiving Table by Diane Morgan