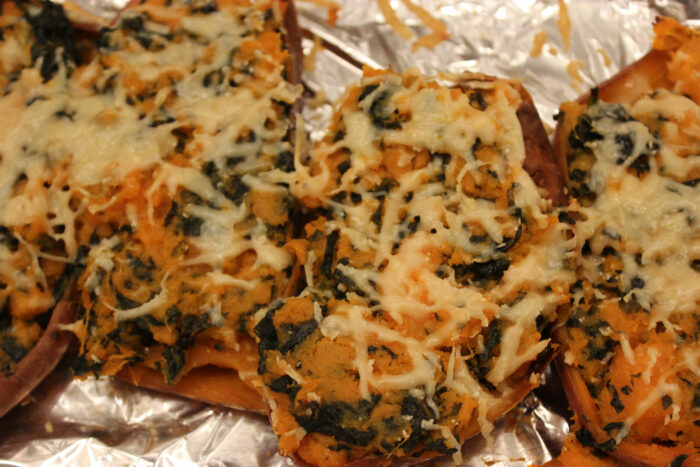 Jackson Pollock? Nope, it's food, not art. Well, actually, this dish is so pretty that you might call it art. And culinary artistry in surely in play here. This is a dish Suzi and I had for a non-traditional Christmas Dinner.
No turkey for us that day. But Suzi could not bear to pass on sweet potatoes. So, I did a little research. Now, I love twice-baked regular potatoes. Here, it's twice-baked sweet potatoes. It looked to me in the recipe. On the table? Gorgeous.
And this dish tastes good, really good. It presents a visual mélange to be sure, yet the flavors join together to give you a slightly-sweet and decadently-rich dish. Use the best cheddar you can find.
We did not adorn our version with the sour cream and cilantro mentioned in the original recipe. We found the dish to already be over the top. So will you.
---
Twice-Baked Sweet Potatoes from Home Made in the Oven
Yield: serves 6 as a side dish or 3 as a main course [pair with a salad]
Ingredients:
3 sweet potatoes of equal size, washed
7 ounces (200 g) spinach
2 tablespoons olive oil
Juice and grated zest of ½ lemon
1 teaspoon paprika
Pinch of ground cayenne
Sea salt and freshly ground black pepper
¾ cup (75 g) grated aged Cheddar cheese
Generous ½ cup (125 ml) sour cream
Handful of chopped fresh cilantro
Preparation:
Preheat the oven to 400°F (200°C).
Place the sweet potatoes on a parchment paper-lined baking sheet and bake for about 1 hour. Depending on their size they should be nicely baked by then. If you can easily stick in a knife, they're done.
Halve the sweet potatoes and use a spoon to hollow out the middle part, leaving just a chin shell. Set the potato flesh aside.
Cook the spinach in some oil. Douse with lemon juice, then drain and press out as much liquid as possible. Finely chop.
Combine the chopped spinach with the sweet potato flesh and season with lemon zest, paprika, cayenne, and salt and pepper. Stuff the hollowed-out skins with the mixture and put back on the baking sheet. Sprinkle with the cheese.
Return them to the oven for another 10 minutes or so to make sure they're nicely hot and the cheese has melted. Serve with some sour cream and cilantro on top.
---
Source: Home Made in the Oven by Yvette Van Boven [Artisan, 2018]
Photo Information: Canon T2i, EFS 60mm Macro Lens, F/5 for 1/50th second at ISO‑1000