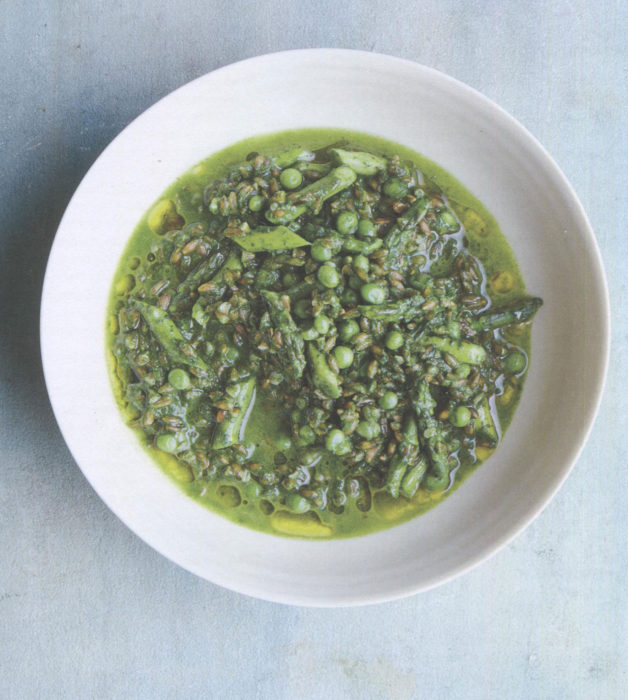 The lovely book Mediterranean by Susi Theodorou has this impressive Venetian Spring Risotto. In the book, this is titled Risi Bisi with Farro but this dish is from Venice and is based on spring ingredients, so I'm giving it this title. Shallots, spring onions, spinach, parsley, fresh peas, and asparagus are assembled here into a risotto of spring splendor.
Before the spring veggies disappear from your markets, do try this Venice treat.
---
Venetian Spring Risotto
Yield: serves 4
Ingredients:
750ml chicken or vegetable stock
2 tablespoons extra virgin olive oil, plus extra for drizzling
2 garlic cloves, bashed to split the skins
2 shallots, finely chopped
6 spring onions, white and green parts separated, whites chopped
225g farro, washed and drained
225g large spinach leaves, washed
4 tarragon sprigs
15g flat-leaf parsley, chopped
500g fresh peas, podded or 300g frozen peas, defrosted
175g asparagus, cut into 2.5cm pieces
15g unsalted butter
50g finely grated Parmesan, plus extra to serve
Sea salt and freshly cracked black pepper
Preparation:
Place the stock in a deep stockpot and bring to the boil, then reduce the heat and keep on a gentle simmer.
Heat the oil in a large sauté or risotto pan, add the garlic and cook until it starts to sizzle and flavor the oil, then remove and discard. Add the shallots and chopped spring onions [white parts] to the pan and cook gently until they soften, then stir in the farro so each grain is coated with the oil.
Add the hot stock, about four ladles at a time, stirring after each addition and then partially covering the pan until the liquid has been absorbed. The process is not exactly the same as when using risotto rice, but you do not want the grains to become mushy, so this is a good way of keeping tabs on it. Cook for about 25 minutes over medium heat, until the farro is tender but retains a little bite.
Meanwhile, place the green spring onion stalks, spinach and herbs in a food processor or blender, add 2 ladles of stock and whizz until very smooth.
For the final 10 minutes of simmering, stir the green puree through the farro and season to taste. When the grains are just tender, with not too much bite, add the peas and asparagus, and cook for 4 minutes. Add the butter and Parmesan and a ladleful of stock to loosen the mix if necessary, then remove from the heat and cover. Leave to rest for 3 minutes.
Uncover, stir the risotto and check for seasoning. Serve with extra Parmesan and cracked black.
---
Source: Mediterranean by Suzi Theodorou [Kyle, 2018]