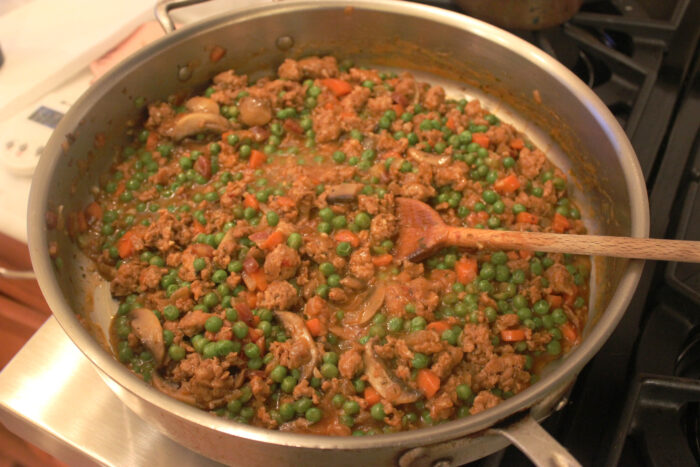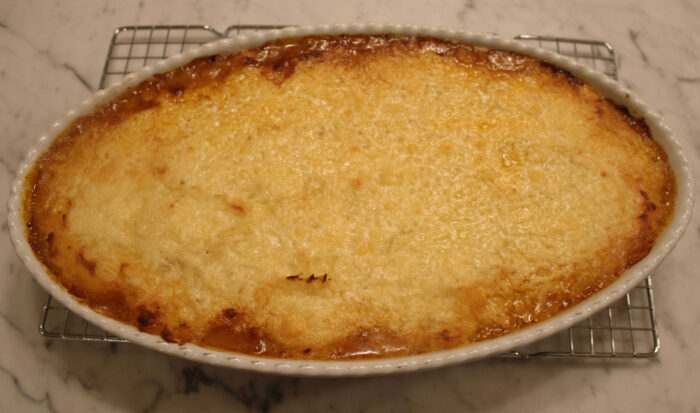 These are days when we can all use some comfort food. And, with us cooking all our meals, it's great to construct a dish that will give you leftovers to smile about.
The bubbling topping here is cheese over a layer of mashed veggies: potatoes, turnips, and parsnips. Those turnips and parsnips are what characterize this "late winter." That topping covers a filling of onion, carrots, mushrooms, ground beef, sausage, peas, and cheddar cheese — all scented with garlic, parsley, oregano, basil, and tomato paste.
In short, this recipe won't empty your pantry shelves, but it will dent them. Of course, you can adjust the proportions here and even leave out the beef or pork. If you've roasted a chicken and have some leftovers, toss them in. This dish is abundant with flavor. And it's going to fill your tummy and raise your spirits.
---
Vermont Late Winter Cottage Pie
Yield: serves 6 to 8
Ingredients:
Topping:
1 ½ pounds Yukon Gold potatoes, preferably organic, peeled and cut into 1‑inch pieces
1 purple top turnip, peeled and cut into 1-inch pieces, about ½ pound
2 medium parsnips, peeled and cut into 1-inch pieces
¼ cup organic cream, warmed
2 tablespoons salted butter
Salt and freshly ground black pepper to taste
Vegetable and Meat Filling:
2 tablespoons extra virgin olive oil
1 small sweet onion, peeled and diced
2 medium carrots, peeled and diced
1 cup thinly sliced shiitake mushrooms caps
½ pound grass-fed ground beef
½ pound pastured pork sausage, preferably Italian, casings removed
2 cups frozen peas
2 tablespoons butter
2 tablespoons all-purpose flour
2 medium garlic cloves, peeled and minced
1 tablespoon fresh chopped Italian parsley leaves, plus extra for garnish
½ teaspoon dry oregano
½ teaspoon dry basil
¾ cup low-sodium beef broth
2 tablespoons tomato paste
1 ½ tablespoons fresh lemon juice
Salt and freshly ground black pepper
1 cup shredded sharp cheddar cheese
Preparation:
Preheat the oven to 350 degrees Fahrenheit. Lightly grease a 9-by-l3-inch baking dish.
To make the mashed potato topping: Combine the potatoes, turnip, parsnips and ½ teaspoons salt in a large pot of water and bring to a boil over medium-high heat. Reduce the heat to a simmer and cook until the vegetables are fork tender, about 20 minutes. Drain the vegetables in a colander and transfer to a large bowl. Add the cream and butter and mash with an old-fashioned masher or immersion blender until smooth. Adjust seasonings with salt and pepper to taste.
Cover the bowl with plastic wrap and set aside.
While the potatoes are cooking, start the filling: Heat the oil in a large sauté pan over medium heat. Add the onions and carrots and cook, stirring occasionally, until the onions are soft and translucent, about 10 minutes. Add the mushrooms and cook, stirring occasionally, for 5 minutes. Add the beef and sausage, and cook, breaking up with a fork, until the meat begins to brown, about 7 minutes. Carefully pour off and discard some of the fat. Add the peas, stirring until well combined, and cook for 2 minutes. Add the butter and cook, stirring often, until melted. Add the flour, garlic, parsley, oregano, and basil and cook, stirring often, for 2 minutes. Stir in the broth, tomato paste, and lemon juice and cook until liquid slightly thickens, about 2 minutes. Adjust seasonings with salt and pepper to taste.
Pour filling evenly into the prepared baking dish. Drop spoonfuls of the mashed vegetables evenly over the filling, then smooth the top into an even layer with a rubber spatula. Place the baking dish on a baking sheet and bake, uncovered, until the potatoes are golden brown and the filling is heated through, about 30 minutes. Sprinkle the cheese over the top and bake for 10 more minutes. Let rest for 10 minutes. Garnish with parsley and serve.
---
Source: The Vermont Non-GMO Cookbook by Tracey Medeiros [Skyhorse, 2017]
Photo Information [Top]: Canon T2i, EFS 60mm Macro Lens, F/4 for 1/30th second at ISO‑2500
Photo Information [Bottom]: Canon T2i, EFS 60mm Macro Lens, F/3.5 for 1/30th second at ISO‑160