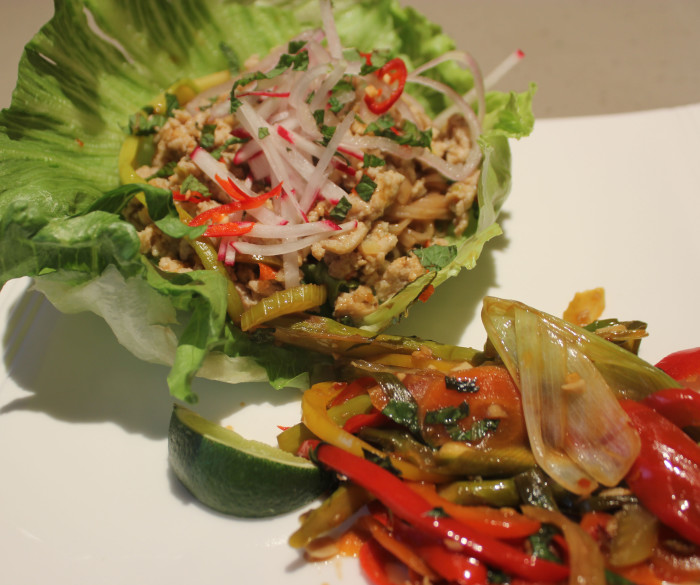 There are times when I can eat a dish and feel that I have done something actually healthy. Asian cuisines are my favorites for this "feel good" situation. I know, tempura and fried rice are not exactly high on the healthy scale. But, this dish is. It's beautiful when plated: elegant lettuce leaves embracing ground pork or chicken [or both] sizzling hot out of the wok. Scents of garlic and fish sauce and lime wafting through the air.
If you have the ingredients on hand, this dish is rapidly prepared. It's ideal for a quick week night meal where you are short on time but long for a taste treat, something to just break up the routine of those standard recipes that keeping repeating onto your table.
While this can be a meal unto itself, we often serve it with sautéed vegetables, say peppers, for contrast in color and flavor.
The recipe calls for chiles, so you have room for maneuver here. How much heat do you want? Small shallots are included, but you can supplement with scallions or other onions for contrast and flavor.
Oh, chopsticks are optional, but recommended. You've gone to good effort here, so you should complete the gestalt. And a cold beer, very cold.
When Suzen serves this to her corporate clients at Cooking by the Book, for some reason they often request a brownie for dessert. We don't have an official Vietnamese brownie recipe here on the blog, but you should check out for the Killer Brownies:
No chopsticks required.
Don't have a wok? You can improvise, but woks are so inexpensive and so useful that it is time to visit your local kitchen supply store. Remember the saying: you have to wok before you can run. At least, I think I heard that saying.
---
Vietnamese Ginger Pork/Chicken Lettuce Cups

Yield: 4 servings

Ingredients:

2 cloves garlic crushed
1 tablespoon fresh ginger, peeled, finely grated
2 red or green chiles, seeded, finely chopped
1 tablespoon peanut oil
1 pound ground pork/ground chicken
2 teaspoons finely grated lime zest
¼ cup fish sauce
¼ cup fresh lime juice
1 tablespoon superfine sugar or granulated sugar
12 small iceberg, Bibb, or Boston lettuce leaves
5 radishes, thinly sliced
4 small shallots, thinly sliced
Fresh mint sprigs and lime wedges for garnish and accent
Preparation:

In a small bowl, combine garlic, ginger, and half of the chiles.
In a large wok or a large, deep skillet, heat oil over high heat. Add garlic mixture and stir-fry 30 seconds to 1 minute.
Add the meat and cook, stirring constantly, 3 to 4 minutes, until meat begins to brown and is no longer pink. Add lime zest, fish sauce, lime juice, and sugar and cook 2 minutes.
Remove from heat; taste to adjust seasonings if necessary.
Spoon into lettuce cups; sprinkle with radishes, shallots, mint, and remaining chiles. Serve with lime wedges.
Source: Frank Melodia in Redbook Magazine

Photo Information: Canon T2i, EFS 60mm Macro Lens, F/3.5 for1/30th second at ISO‑100