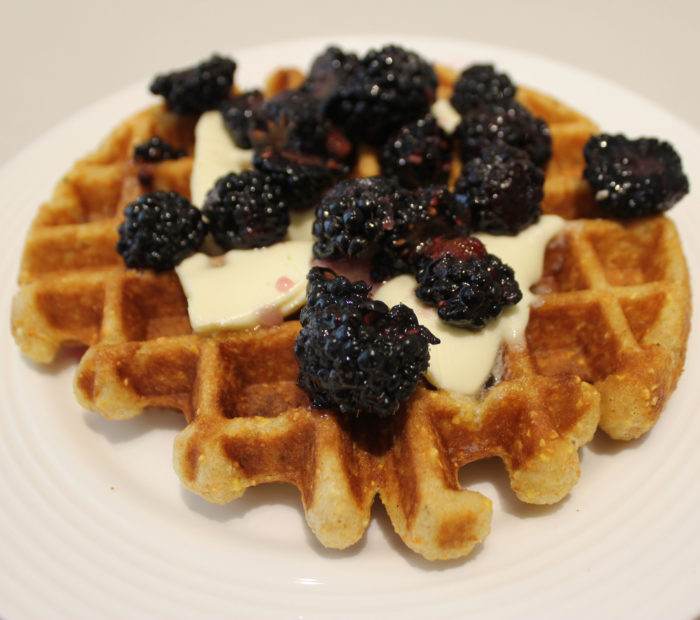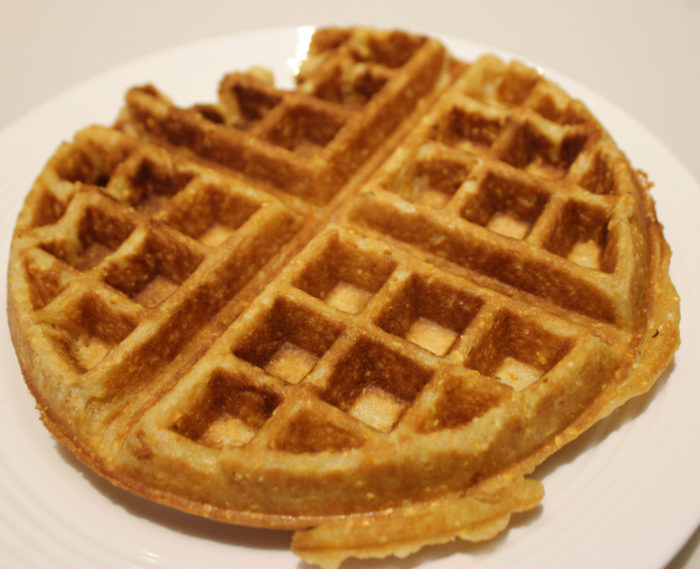 The wind today is up to 50 miles per hour. Chill factor is bad. Am I going out for my morning croissant?
No. It's a waffle day.
Suzi finally relented and I got a Belgian waffle maker. The deal is this: we go out for brunch on weekends and on Monday I make waffles for me. I eat one or two, freeze the rest, and switch between waffles and croissants during the week.
Suzi never has to touch a waffle. She's quite prejudiced.
However, she took a bite of these today and gave me a thumbs up. These cornmeal waffles truly are crunchy and have the richer flavor engendered by buttermilk.
These take about 4 minutes to cook, a minute more than waffles made with just flour. I've been experimenting with many recipes. This one is the easiest, although there is a 10-minute waiting here for the cornmeal to soften in the liquid. That gives you time to clean up the mess you've generated in fashioning the batter.
Other recipes call for thing like separating the eggs, whipping the whites and folding them into the batter. Honestly, I cannot see that extra effort pays off in extra flavor, texture, or appearance.
I always serve my waffles with butter and berries. No syrup. That second photo shows how crispy these are. You could just dip one into strawberry jam!
---
Crunchy Cornmeal and Buttermilk Waffles
Yield:4 waffles
Ingredients:
1 ¾ cups buttermilk
2 large eggs
5 tablespoons butter, melted and cooled
1 ½ cups King Arthur Unbleached All-Purpose Flour
1 cup yellow cornmeal
2 tablespoons sugar
2 teaspoons baking powder
1 teaspoon baking soda
1 teaspoon salt
Preparation:
In a medium-sized mixing bowl, whisk together the buttermilk, eggs, and melted butter or oil.
In a separate bowl, blend together the dry ingredients, then quickly and gently combine the wet and dry ingredients.
Let the batter sit for 10 minutes, to allow the cornmeal to soften.
Drop the batter by ⅓-cupfuls onto a hot waffle iron, and cook it until steam stops seeping from the iron.
---
Source: kingarthurflour.com
Photo Information [Top]: Canon T2i, EFS 60mm Macro Lens, F/3.5 for 1/30th second at ISO‑160
Photo Information [Bottom]: Canon T2i, EFS 60mm Macro Lens, F/3.5 for 1/40th second at ISO‑250