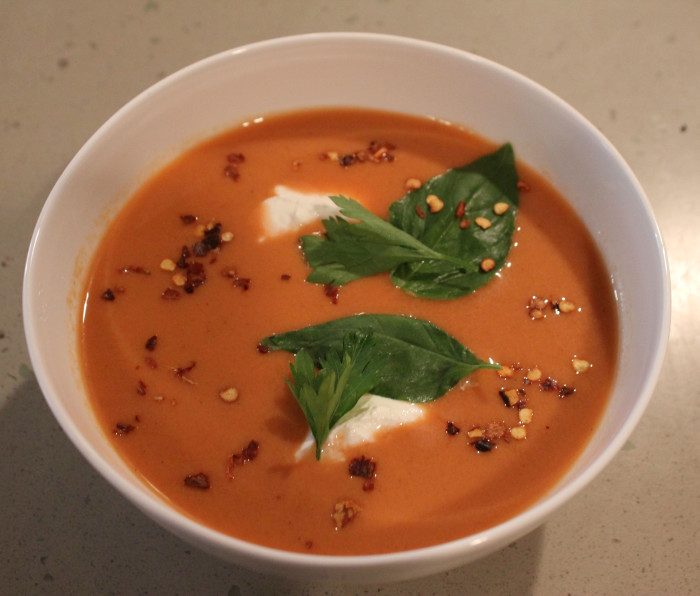 I may be changing my forthcoming cookbook. I was planning to do one on B&B. That would be Bar and Brownies or cocktails meant for chocolate. But, I'm torn now. I'm headed towards that gazpacho book I've toyed with.
There was little spring this year in the Hudson Valley, but summer has arrived. We went from temperatures ten degrees below normal to ten above. It's times for something cool and refreshing. This gazpacho is different because, while it has tomatoes and those fruits do provide basic color, the flavor here is far from tomato. The underlying flavor notes are watermelon with cucumber patina. It's a lovely soup, light, ideal for sweaty day. And this soup matures and actually becomes better on days two and three when the flavors have lost their edge, their distinctiveness, and there remains just "soup" flavor.
Easily made, this soup is a great weekend dish. You are busy, you don't have time for the kitchen, so you make a big batch of this and enjoy all weekend long.
When you serve this, some additional salt is wise. I think pepper flakes offer some visual spice, as well as heat in the mouth. Some herbs and, of course, a couple of dollops of sour cream.
You can make this soup in volume and enjoy for days. It's lovely as a meal starter. And it's perfect for a quick, light weekday lunch.
This gazpacho is made without bread crumbs and you run it through a sieve. The result? It's very, very thin. I was actually trying to duplicate a gazpacho I had a restaurant earlier, one that was so thick you could fold it with your spoon. This aint' this. This is quite watery. I like it, I recommend it, I'm going back to that restaurant to get the thicker one as well.
---
Watermelon, Cucumber and Tomato Soup

Yield: 6 large servings

Ingredients:

4 medium tomatoes, preferably heirloom varieties, chopped
4 cups diced seedless watermelon
1 cucumber, peeled, seeded and chopped
1 yellow bell pepper, chopped
1 medium shallot, sliced
⅓ cup loosely packed basil and mint, plus small leaves for topping
Kosher salt and freshly ground pepper
⅓ cup extra-virgin olive oil, plus more for drizzling
3 tablespoons champagne vinegar
Preparation:

Place the tomatoes, watermelon, cucumber, bell pepper, shallot, basil and mint in a large bowl. Season with 1 ½ teaspoons salt, and pepper to taste. Stir in the olive oil and vinegar.
Puree the tomato mixture in a blender, in batches if necessary. Strain through a fine-mesh sieve into a bowl, pressing to extract any liquid; discard the solids and season with salt and pepper. Cover and refrigerate until chilled, about 1 hour.
To serve, top the soup with the small herb leaves and a drizzle of olive oil.
---
Source: Food Network

Photo Information: Canon T2i, EFS 60mm Macro Lens, F/5.6 for 1/30th second at ISO‑2500