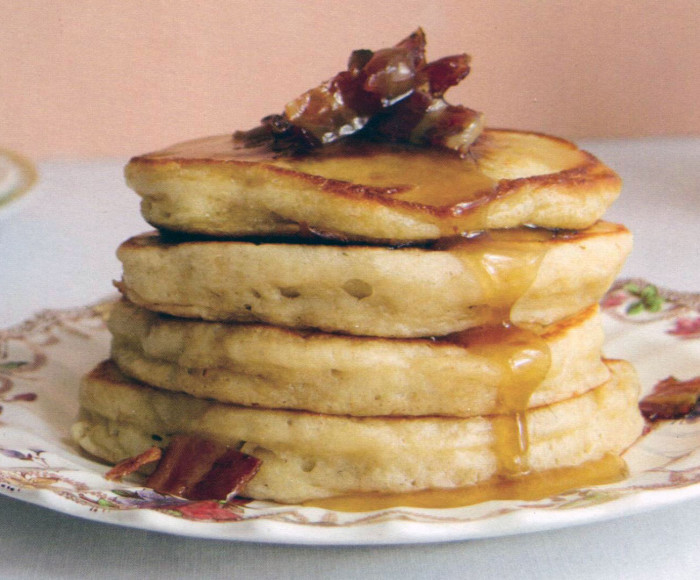 Joy Wilson's Homemade Decadence believes that brunch is the key meal of the day, or of the week. I know, brunch needs to be special and that means work and we all like to sleep in a bit on Saturday and Sunday. So, if you don't want brunch to be served at 4PM, just before dinner at 6PM, what can you do?
Well, you can start the night before. Look at that picture from Homemade Decadence. Those pancakes soar tall and fluffy and oh so ideal. The trick is to make the batter the night before and let the night provide rest for you while the yeast slowly labors from dusk to dawn getting this recipe ready to go.
This recipe is on the list of things that Suzen and I want to do, but have yet to find the time. If you beat us to it, do let us know how very special and delicious these pancakes turn out to be.
---
Yeasted Overnight Pancakes

Yield: serves 6

Ingredients:

1 ½ cups warm whole milk (about 105°F)
1 (.25-ounce) package active dry yeast (2 ¼ teaspoons)
2 ½ cups all-purpose flour
3 tablespoons sugar
¾ teaspoon salt
¼ teaspoon ground cinnamon
Pinch of freshly grated nutmeg
¼ cup [½ stick] unsalted butter, melted and cooled
2 large eggs, beaten
2 teaspoons pure vanilla extract
Butter or oil for the pan when cooking in the morning
Preparation:

In a small bowl, whisk together the warm milk and yeast. Let stand for 5 minutes.
Meanwhile, in a large bowl, whisk together the flour, sugar, salt, cinnamon, and nutmeg.
Add the melted butter, eggs, and vanilla to the milk and yeast mixture. Pour the yeast mixture, all at once, into the dry ingredients. Stir until no lumps remain. Cover the bowl with plastic wrap and drape a clean kitchen towel over the covered bowl. Put the bowl on top of a plate in the refrigerator (in case the dough overflows) and let the pancake batter rest overnight.
When ready to make the pancakes, remove the batter from the fridge and let it sit at room temperature for 20 minutes.
Put a rack in the center of the oven, put a heat-proof plate on the rack, and preheat the oven to 150°F.
In a griddle or a nonstick sauté pan set over medium heat, melt 1 tablespoon of butter. Working in batches, spoon the batter onto the griddle. For small pancakes, I use about 2 tablespoons per pancake, and for larger pancakes, about ¼ cup. Cook until golden brown on the bottom, about 4 minutes. Carefully flip and cook the second side until golden brown, about 4 minutes. Repeat with the remaining batter. Transfer the cooked pancakes to the plate in the warm oven, cover with a clean kitchen towel, and keep warm until ready to serve.