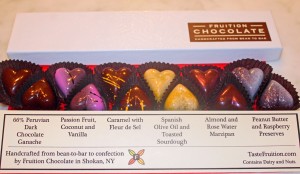 Valentine's Day approaches. I one of those people who does the last minute scramble. I don't like that, I just sort of fall into it.
"Oh, how thoughtful," Suzen will say. I hear the tone and I feel the guilt. So, this year, I'm thinking ahead. I'm thinking chocolate. I'm thinking the best chocolate I can find.
In the Catskills there is a world class chocolate manufacturer and store: Fruition Chocolate. You can visit them and pine away at www.tastefruition.com. During the week, Suzen and I live in Manhattan, and there are loads of fine chocolate shops here. But, if we want Paris-class chocolate, fresh chocolate with exciting flavors and perfect texture, then we go to Fruition. It is, I believe, an act of God that our weekend house is just 3 miles from Fruition. It is, I tell Suzen, a sign that we should eat there on a regular basis.
And to that, Suzen does not say "no" because she is more addicted than I am.
For Valentine's Day, you can order the heart assortment pictured above. My picture does not do justice to the beauty of these gems. From personal sampling, I can tell you the Caramel with Fleur de Sel offers a soft, sweet caramel with a contrasting bite of rich salt. It is simply a burst.
Oh, the Spanish Olive Oil and Toasted Sourdough is real. When I saw it, my hand hesitated. What could this be? It turns out to be subtle with a zillion flavor overtones and a texture that hints at this bread. It will make you want to buy another box.
You can order on line. Fruition is constantly evolving as they step up production and introduce new treats. Their hot chocolate mix will make your day start much, much better.
Suzen knows I got this heart assortment for her Valentine's Day. She saw me buy it, and then she told me, "Oh, how thoughtful." I think this time she was sincere.