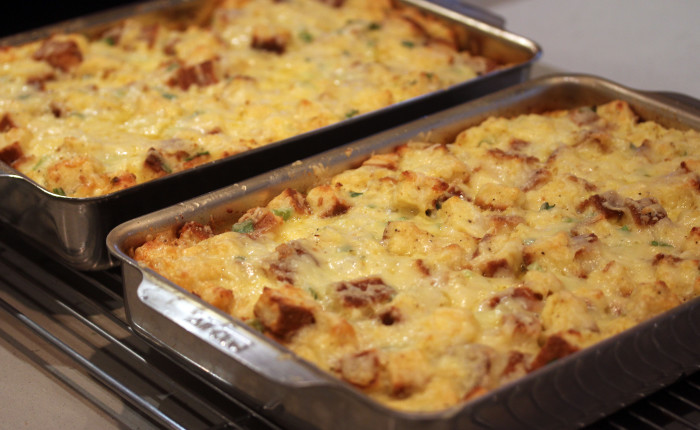 Here's an idea from March 2015, and it shows why if you want breakfast, you'd be better off in Italy than anywhere else. This dish is deep and decadent. You might consider challah or brioche for the bread component here. Why skimp when you already have all that cheese, dairy and eggs?
---
Here's a centerpiece dish for your brunch. A cheese strata is a breakfast casserole that you can adapt to your own particular needs and preferences. The recipe below, for example, includes bacon as an option. You can add peppers, herbs, … The list is endless, the combinations all a miracle to the mouth.
Be sure to assemble this breakfast casserole the night before so the bread has time to absorb the egg mixture. For a special treat, you can use artisanal bread from a favorite baker and real Parmigiano-Reggiano cheese for delicious results. In Suzen's case, she uses homemade challah, soft and luxuriously eggy.
This recipe is from Entertaining Simple, an exceptional book. Yes, it has recipes for food, but it really has recipes for entertaining. If the thought of throwing a party gives you hives [or spasms], then you want this book. Everything, from the table set up to dessert, everything is carefully described and photograph. This is your guidebook to party success. No Maalox needed.
Cheese Strata
Yield: serves 10
Ingredients:
·       3 tablespoons unsalted butter
·       1 medium onion, thinly sliced (1 cup)
·       4 scallions, white and green parts, finely chopped
·       10 slices ¼ inch thick, hearty white bread, lightly toasted and cut in half crosswise or in ¾ inch cubes
·       8 slices cooked bacon, chopped into -inch pieces (optional)**
·       6 ounces Parmesan cheese, finely grated (1 cup)
·       8 ounces Gruyere cheese, coarsely grated (2 cups)
·       10 large eggs
·       2 cups milk or Half & Half
·       2 teaspoons kosher or sea salt
·       1 teaspoon freshly ground black pepper
Preparation:
Preheat the oven to 425⁰F.
In a medium sauté pan over medium-high heat melt 1 tablespoon of the butter. Add the onion and cook, stirring, until translucent, 3 to 4 minutes. Add the scallions and cook, stirring, until they turn bright green, about 2 minutes more. Remove the pan from the heat and let the contents cool to room temperature.
Grease the bottom of a large baking dish with the remaining 2 tablespoons butter.
If using bacon, line the bottom of the dish with half the pieces of bread (slices can overlap). Sprinkle an even layer of bacon on top of the bread. Spoon on the onion and scallion mixture and sprinkle with both cheeses. Arrange the remaining bread slices in overlapping rows on top.
If not using bacon, just put down a layer of bread. . Spoon on the onion and scallion mixture and sprinkle with both cheeses.
In a medium bowl, whisk together the eggs and milk until well combined. Whisk in the salt and pepper. Pour the egg mixture over the bread in the baking dish. Gently push the bread into the egg mixture. Cover the dish with foil (butter the underside of the foil that will be on top of the food) and refrigerate for 8 to 10 hours or overnight.
Preheat the oven to 375°F.
Bake the foil-covered strata for 20 minutes, then remove the foil and bake for 20 minutes longer until the top is golden brown.
---
Source: Entertaining Simple by Matthew Mead
Photo Credits: Canon T2i, 18-55MM Macro lens, F/2.8, 1/80th second, ISO 400