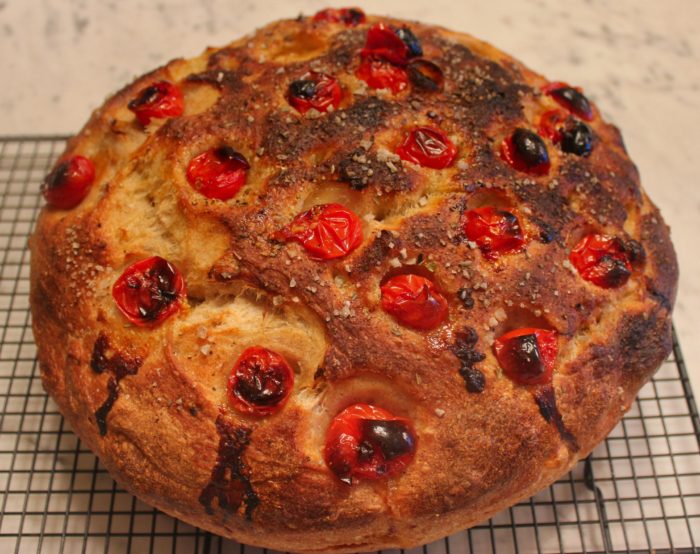 Suzi bakes bread. Lots of bread. At her cooking school, Cooking by the Book, guests are always greeted with appetizers and beverages.
Those appetizers often feature the different sourdough breads that Suzi makes each weekend. Her sourdough starter is 24 years old and dates to her role as the test kitchen for the last two editions of the Joy of Cooking.
The starter has been used hundreds of times, in hundreds of ways. But this "large" round loaf comes from a new technique. Ordinarily, Suzi lets her dough rise and then spread it out into a rectangle on a baking sheet before the final and bake.
This time, there was no baking sheet. Instead she used a 12-inch cast iron pan. And the dough was festooned with those parcels of tomato confit. Then coarse sea salt was liberally  applied and the cast iron skilled went into the oven.
This bread was delicious on the side that night, still warm from oven. And the next day, this focaccia, so tall, was ideal for slicing and using in roast pork sandwiches. Complete with sliced onions and pickles.
Revolutions [French and Russian] have been started over bread. Try this technique and you'll understand why.