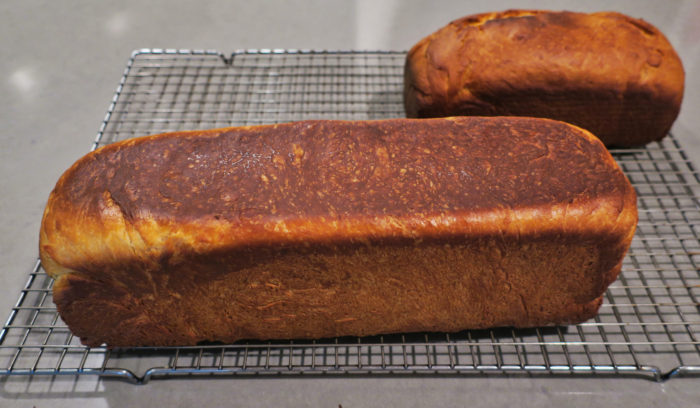 Suzi is a baking fool. It's Friday and here in New York City she's plotting the Saturday and Sunday baking schedule in our upstate test kitchen. What flour does she need, does she have, does she need to buy? Which recipes to tackle? What secret ingredients to use?
Yes, Suzi has bread secrets and I don't know until that first bite what those secrets are. You know the type of devious secrets: raisins, dried cranberries, toasted almonds, …
I never know what to expect but I do enjoy her bread. Well, I'm a little shaky on those cranberries to be totally up front. Cinnamon? Oh, yes, she can never use too much cinnamon.
One of Suzi's favorite techniques is to bake bread in classic Pullman loaf pans. She does whole wheat and rye and, best of all, brioche.  The result is a bread "brick" as you can see. Brioche in a Pullman makes great toast and phenomenal French toast. Just slice it thickly.
Where does the term Pullman come from? Railroads. In the 1800s in the United States, Pullman was the leading maker of railway cars. Those cars came with very compact kitchens — space lost to the kitchens could not earn revenue so "small" was essential. Three Pullman loaves, with their square shape, take up the space of two conventional loaves with their rounded tops.
The Pullman style loaf pans were actually invented in Europe in the early 18th century where bakers wanted to minimize the crust on their bread. Suzi is not trying to minimize crust but surely to maximize flavor.
If you have never baked break ala Pullman, go ahead. Get a Pullman train ticket [i.e. pan], climb on board, and enjoy the journey. Do that brioche!
Source for facts about Pullman: Wikipedia [I donate to them and I hope you will too]