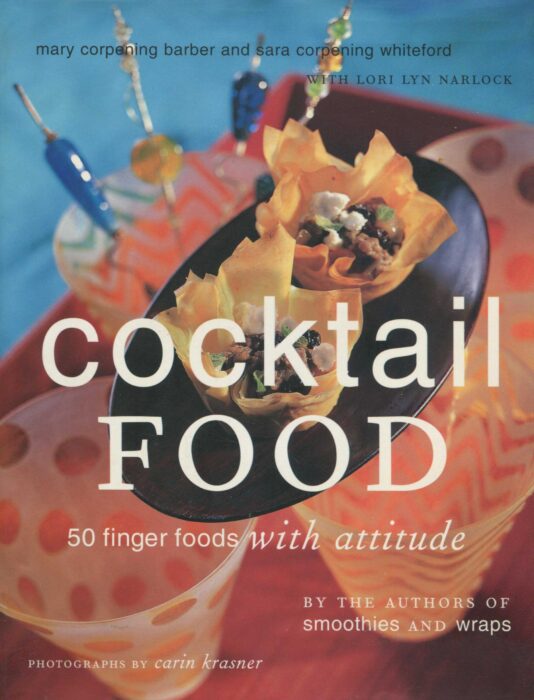 Here's a little Thanksgiving help. One you need to consider now.
Actually, it is not about Thursday, Thanksgiving Day. It's about Wednesday, the day and the night before. Many of us travel for the holiday and arrive a day or two before. Or, we are hosting and on Wednesday night we find we have a houseful of guests who really need some sustenance. Whether you are bringing something as a guest or you need to feed that crowd, that Wednesday night is a most important day in this week of Thanksgiving.
The issue is universal: what to eat on Wednesday night. It surely isn't going to be chicken. And a heavy meal, say steak, is perhaps presumptuous. We tend to overeat on Thanksgiving so going a little light on Wednesday is a good idea.
Perhaps just some holiday beverages and some cocktail food? Sure, and that's why you might want a classic book: Cocktail Food by twin sisters Mary Corpening Barber and Sara Corpening Whiteford. I called it a classic. Well, it is from the last century, published in 1999 and it's right there on our kitchen bookshelf for essential books. Here are some ideas you can assemble into a grand tapas spread:
Bayou Biscuits: Andouille Sausage Biscuits
Deli Blue: Blue Cheese and Walnut Shortbread served with Chutney
Mary's Little Lambs: Filo Cups with Spiced Lamb, Mint and Feta
Smoked Salmon Bonbons: Smoked Salmon and cream Cheese Croquettes
Teardrops: Onion Puffs with Jarlsberg and Chive
Tuna Tied: Scallion-Wrapped Tuna with Orange-Miso Dipping Sauce
Goat-Teas: Open-Faced Goat Cheese, Cucumber and Pickled Red Onion Tea Sandwiches
Turk-n-Roll: Tortilla Roll-ups with Smoked Turkey and Mole-Sour Cream Dipping Sauce
There are fifty ideas in this book, ones that still sparkle with creativity and captivating flavor. These were new ideas a quarter century ago and they are still fresh for your consideration. The ideas are combinations you won't have encountered before, yet they are quite simple and you can rustle up a modest array of treats on Wednesday. Without detracting from all your Thanksgiving prep work.
You are prepping on Wednesday, aren't you? The pies? The stuffing? You really don't want to do everything for your Thursday table on Thursday alone. You'll be exhausted. Have some of these delightful treats and a glass of bubbly on Wednesday night. It's a holiday for heaven's sake.
Suzi and I have made, not all, but a whole slew of these over the years. In the coming month we have leading up to Thanksgiving this year, we'll post a few ideas to make that Wednesday as delicious as the Thursday to follow.