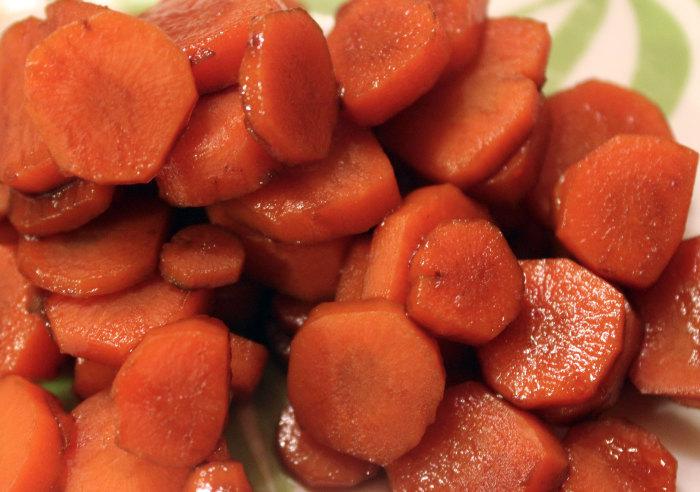 Ah, it is official. Thanksgiving Dinner is exactly two weeks away. What makes this meal so wonderful is the abundance we often put on our table. One side dish after another. How about some carrots, sweet and intense with just a simple coating of bourbon, honey, and vinegar. Make this once and you will make it again and again. We had it last year, and we are having this one too!
Carrots are an odd veggie. Yes, you can eat them raw, although it might challenge a weak crown in your mouth. Face it, carrots are dense and hard. So the tendency is to cook them long, often in the presence of lots of butter and sugar. The resulting product tastes just like dessert, soft and sweet.
Here's an option where the carrots are not too soft, not too sweet, and bear the tang of vinegar and the aroma of bourbon — all coated with just a slim layer of honey. Yes, there is sweetness here but just enough to bring out the grand carrot flavor.
This recipe lets you have creative carrots in just a few minutes. It's a side dish of substance, one that can happily mate with burgers, beef, salmon or your own favorite protein. The color is amazing, shiny and glimmering. It's a perfect dish for a cold winter's night.
This recipe comes from Bourbon, one of the books in the Savor the South series from the University of North Carolina. You might to check out the other excellent titles in the series, slim books devoted to single topics: like bourbon and buttermilk!
Carrots have a long and complicated history. They originated in Persia, but today half the carrots on the planet are ground in China. The modern carrot was fashioned in the 12th century in Afghanistan, and it took over six centuries for this latest evolution to spread across the planet.
You know how at the store or farmers market you always ask for the carrot tops to be removed? That's a turnabout because originally carrots were used for their aromatic leaves and the root was not eaten. Some of the carrot cousins are still used for their aromatic power: parsley, dill, fennel, and cumin.
So, perhaps, carrots are not so odd after all. They are used around the world in almost every cuisine, cooked in thousands of dishes, and combined with every ingredient you might imagine. Including bourbon.
---
Bourbon Glazed Carrots
Yield: serves 4
Ingredients:
1 pound carrots, sliced into ½-inch rounds
3 tablespoons honey
2 tablespoons bourbon
1 tablespoon balsamic vinegar
1 teaspoon salt
Preparation:
Place the carrots in a large nonstick skillet and cover with water. Cover and bring to a boil over medium-high heat. Reduce the heat to medium and simmer for 8 minutes or until crisp-tender. Drain.
Place the carrots back in the skillet and add the honey, bourbon, balsamic vinegar, and salt. Cook over medium-high heat, stirring occasionally, for 5 minutes, until the carrots are coated with the glaze.
Remove from the heat and serve hot.
Photo Information: Canon T2i, EFS 60mm Macro Lens, F/4.5 for1/60th second at ISO 2000