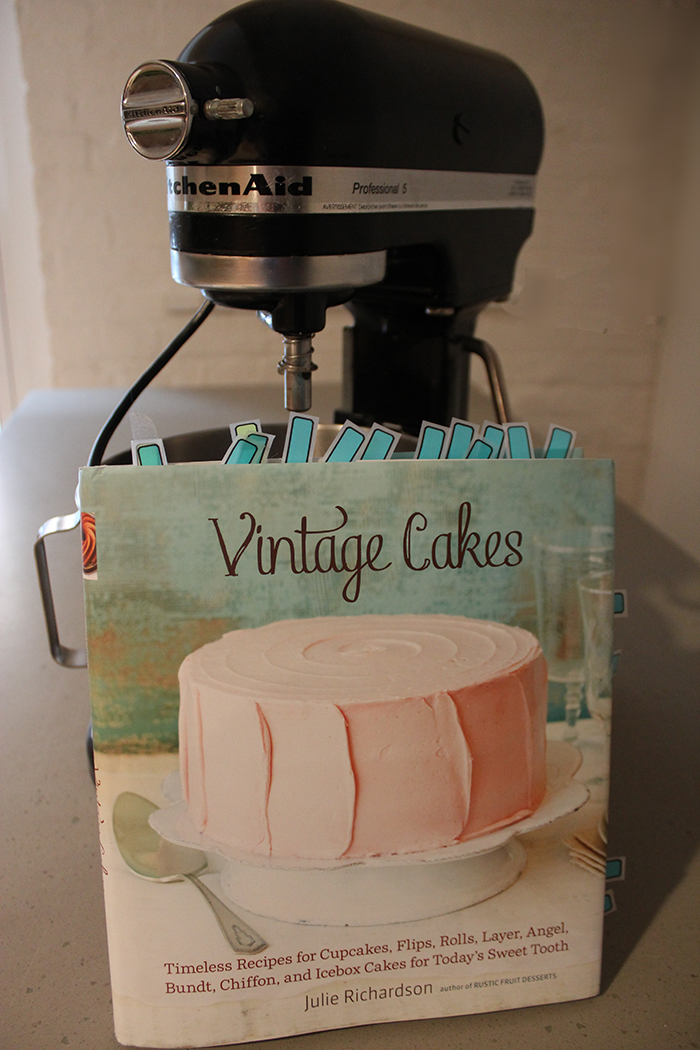 Buried treasure.
Somewhere in our childhoods, we all encounter a story or tale with buried treasure found and adored.
So, for many of us, part of life is that search for that treasure. It may be golden coins or golden locks. Or golden pieces of cake.
Baker Julie Richardson has been fortunate to find buried treasure. She is generous in sharing that bounty with us in Vintage Cakes.
Julie is a natural baker who began her career in Ketchum, Idaho. She has moved to Portland, Oregon and now has Baker & Spice Bakery just over the West Hills. Her bakery is in the space occupied 50 years ago by the Hillsdale Pastry Shop. In her process of remodeling the old to start anew, Julie found a filing cabinet that she emptied into boxes and pushed aside.
And then she began to go through those boxes and discovered a bevy of fifty year old recipes. People who remembered the Hillsdale Pastry Shop asked her for old treats from that store. And friends began to supply their old recipes, too: you know, those fond things that a grandmother made long ago. The paper the recipes were written on may have faded. The memories have not.
And so, Julie has written Vintage Cakes. And you, you, have a mission. Find this book, take it home, and take a journey of flavor and memories. Yesterday, I posted a picture and recipe for the Blitz Torte from Vintage Cakes that is fabulous: brown sugar cake, meringue, honey custard, and berries. In the picture above, you see lots of little stickies at the top and side of the book. Yes, I've gone through Vintage Cakes page by page and there's so much I want to try:
Banana Cake with Coffee Walnut Buttercream
Butterscotch Cream Roll Up
Coffee Crunch Spiral
Goober Cake [Peanut butter cake with peanut butter frosting]
Malted Milk Chocolate Frosting
Old Vermont Burnt Sugar Cake
Marshmallow Frosting
Maple Cream Cheese Frosting
Lovelight Chocolate Chiffon Cake with Chocolate Whipped Cream
Malted Milk Cupcakes
Double Dip Caramel Cake
I showed Suzen the recipe for the Goober Cake. Her reaction was, well, emphatic: "That makes my teeth hurt!" And you know what, she's right that it is a tad sweet but I'm determined. Next dinner party we have is ending with the great American peanut in all its glory: in the cake and in the frosting. I envision serving peanut brittle on the side.
This book from 10 Speed Press is beautifully packaged. The recipes work, because a professional baker has written them. Erin Kunkel has photographed many of the cakes here and does them full justice.
Physically, the book is divided into important sections:
Hasty Cakes for those of whose ADD medications are not working
Everyday Cakes for the standard sweet tooth
Little Cakes and Light Cakes for those with cupcake addiction
Flips and Rolls for people, like me, who think a roulade is a national treasure
Layer Cakes for traditionalists [i.e. they want frosting between the layers]
Party Cakes to make family treats memorable
Fillings, Frostings, and Icings for those who know that no cake should be naked, not ever
The recipes here are old. Fifty plus years in many cases. They reflect an age of butter, eggs, sugar and loving creation.
I grew up in Portland in the 50's and 60's, just across the river from the Hillsdale Pastry. Did I go there? I honestly don't remember. But I do remember this. In a city filled with second and third generation families from Germany, Austria and Scandinavia, there was a mom-and-pop bakery every other block. Yes, people did bake at home, but there were scores of wonderful places whose aromas wafted out onto the streets. You might think I'm exaggerating or imagining. But, no, I'm just remembering.
Now those memories can be real. They can be yours. They fill the pages of Vintage Cakes.