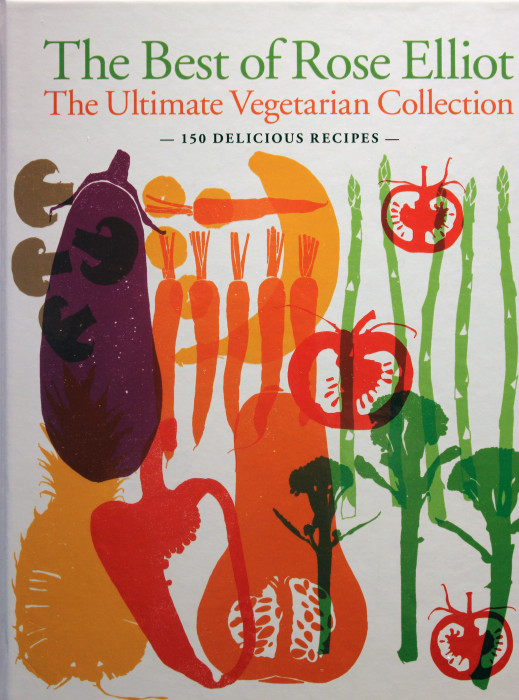 There's a real hint in that pretty book cover: this is no ordinary vegetarian cookbook. It arrived just in time.
I had found a recipe for veal chops. We were in the market shopping for veal chops.
"Here they are," Suzen said, lifting up a package with one medium-sized chop. She took a deep breath. "Seventeen dollars." She replaced the package with the care you would use if you had picked up a plate in a china shop, only to discover the plate is $325 dollars and they have a you-break-you-buy policy. Suzen can be gentle.
That night we had Red Pepper Hummus with Smoked Paprika from this book. The hummus and a salad and a glass of wine. All for significantly less than $17 or $17 times 2 assuming we were both going to eat. At a normal meal, we do both eat. It's a marriage thing.
Rose's book is more than a life saver and wallet saver combined. This book is an important upgrade to the vegetarian world. For some of us, "vegetarian" is almost four letter word. There is a stereotype to "vegetarian" that is pejorative. And I can't say the tendency to turn up my nose at "vegetarian" has not been earned.
Take a look at the vegetarian cookbooks that abound. There is a plethora of them. See, I used "plethora" and although it just means "a lot" it sounds bad. If you look at the typical vegetarian cookbook, it is not pretty, the layouts are unappealing, the photos are not appetizing, and the food — if you venture to make it — often has the look and taste of a frozen meal kept a year past its expiration date. Bland, brown muck.
For some reason, many vegetarians seem to thrive on making their food look terrible but taste worse.
That's a disservice to the plant kingdom. That's where the almost 40 years of experience in Rose Elliot's career pays off. This book happens to be vegetarian but it is first and foremost a cookbook, an excellent cookbook. It is everything that the standard vegetarian cookbook is not. It is pretty. It is appealing. The photos — half the recipes feature full page photos — are lovely, with real colors and contemporary soft focus.
This is a book that invites you in. And as you read the recipes, you are going to want to cook. Rose does not quibble over ingredients. She is not driven to make each recipe both vegetarian and sure to win the approval of your cardiologist. She knows that, if you eat in moderation, you can eat anything. So, here cauliflower is made creamy with three cheeses. There is a Stilton and Cherry salad, adorned with Cinnamon Dressing. [Rose is British so Stilton abounds.]
Rose, thank God, loves cheese. And chili and spices and nuts and rice. She knows the additional ingredients needed to make a veggie dish satisfying to those of us who grew up with every meal protein-centric. She does not preach the vegetarian alternative. She just lays the ideas out there and when you read them it is rather stunning what "meatless" can mean:
Banana Curry with Cashew Rice
Carrot, Parsnip and Chestnut Terrine with Red Wine Gravy
Croustade of Asparagus Hollandaise
Mexican Tomato Tart with Cumin Pastry Topped with Fried Eggs
Spicy Bean Cakes with Lemon Mayonnaise
Stilton Pate
Spinach Custards with Avocado
Whiskey Cream Banana Pie
Pie? Oh, yes, I said she wrote this like any normal cookbook. There are chapters for appetizers, soups and salads, main courses, special party meals, sides naturally, and thankfully desserts. Good desserts. When you see the pie picture, you are going to a liquor store and a supermarket, assuming your liquor store does not sell bananas. My liquor store, by state law, does not.
This a fun, fun book to contemplate. When you prepare these dishes, you are going to leave the table satisfied. No "where was the protein" regret. Rose's book has opened my eyes and increased my tolerance. "Vegetarian" now has 10 letters, not 4.
I want that spinach custard with avocado.
Followed by the whiskey cream banana pie.
I said I was more tolerant. Not reformed.