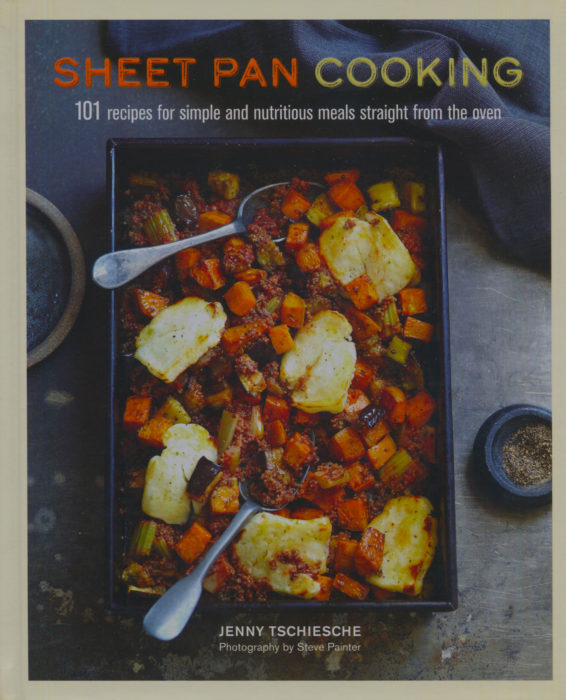 You probably own a sheet pan or two. Or ten or maybe even more. Suzi has a cooking school and about twenty-five of them: quarter sheets, half, and full. Yes, we do have one oven that can take one of those gigantic full sheets.
We use them, as you do probably, for storing ingredients, organizing a big meal, and for baking cookies. We have not thought of them as "cooking tools" in same sense as a casserole or a cast iron pan. And now, we will.
In Sheet Pan Cooking, author Jenny Tschiesche presents 101 recipes where the sheet pan is the tool of the day. There is a full spectrum of recipes here with chapters for:
Meat
Poultry
Fish
Vegetarian
Vegan
Sides and Salads
Sweet Things
Jenny is a skilled recipe developer with an eye for healthier ingredients and techniques. For example, she suggests using gee in lieu of butter, coconut milk in place of cow.
The protein-oriented recipes offer intense delights:
Marinated Lamb Chops with Garlicky Tomatoes and White Beans

Sausage, Celery and Tomato Bake

Duck Legs with Apple, Parsnip and White Cabbage
That sausage bake gives you an insight into the style of this book: load up that sheet tray with multiple ingredients. It's one-stop cooking and a fast track to a meal with an enthusiastic diversity of flavors.
If you want lighter fare, if perhaps you are vegetarian or vegan, then there are equally lovely ideas for you here too, ideas like:
Black Bean and Sweet Potato Chile

Chickpea and Pepper Curry Bake

Stacks of Tomato, Eggplant, Sweet Potato and Goat Cheese.
That last recipe, the stack, is a colorful tower of flavor that will provide as much satisfaction as any protein-centric dish.
This is a British book so the desserts here do not include apple pie or brownies. Instead you'll find ideas that are sweet but rather simple:
Roasted Pineapple

Baked Chocolate Bananas

Baked Cinnamon Pears

Orange-Baked Rhubarb

Sticky Ginger Cake
That Sticky Ginger Cake is a British classic and the most complicated recipe in the book, thirteen ingredients including dates, prunes, molasses, maple syrup, yogurt, ginger, and cinnamon. This cake is a journey down historic spice routes. A meal ending with this cake, and beginning with the duck legs, is sure to be memorable.
Dust off the sheet pans, get this book, and cook away.