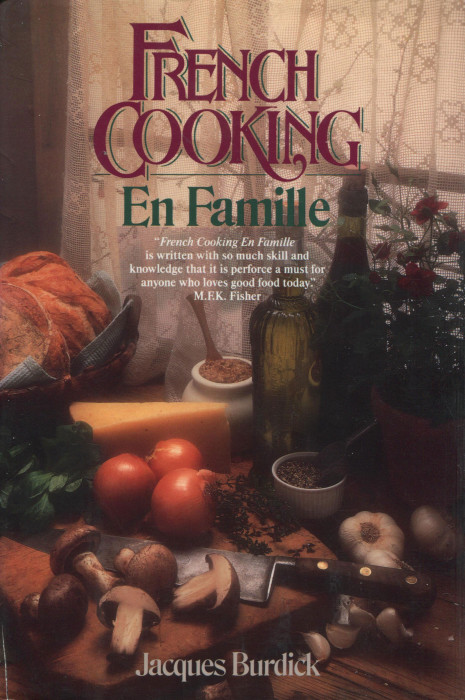 In 2015 I first posted this review of Jacque Burdicks's lovely French Cooking en Famille.  Published in 1989, it brought rave reviews, like this one from M.F.K. Fisher:
"French Cooking En Famille is written with so much skill and knowledge that it si perforce a must for anyone who loves good food today."
Pretty good recommendation for a guy from Texas. Yes, please read my review and then, if you can, get a copy and be prepared for comfort food ala a French family.
---
Suzi and I had the pleasure of having Jacques Burdick as a friend. We enjoyed many meals together and loved receiving the small gifts of French food he would bring with him. To this day we mourn never having gotten his tomato jam recipe. Just eye-opening amazing.
Jacques was born in Texas, which actually had large communities of French and German immigrants. When he still a young student, he returned to France, traveling to see family and friends and extending that network of connections over a forty-year period.
When he began his journeys, he was the typical impoverished student so he bypassed restaurants and ate in people's homes. Once that pattern began, it never wavered. After those forty years of that exploration, in 1989 he wrote French Cooking En Famille, a paean to the daily triumphs of the French home kitchen.
Jacques began this book by describing the typical French home kitchen of the late 1940s or early 1950s. Adequate to produce wonderful food, but hardly the showy kitchens we expect to see in our new condos and massive homes. Simple small spaces, designed to accommodate preparation using the daily purchases of meat, produce, dairy, and patisserie. It was that simplicity of the surroundings compared to the sumptuousness of the meals that captured Jacques's attention.
How does French Cooking begin? How else but with a chapter on Sauces. Here you find those underlying secrets of French cuisine: veal stock, veggie stock, clear fish stock, browned butter sauce, béarnaise. The classics appear here and then are included into the subsequent dishes.
There are chapters for First Courses, Eggs and Egg Dishes, Meats, Domestic Fowl and Game, Variety Meats, and Desserts.
The home cuisine that Jacques documents reflects an intelligence balance of veggies, dairy and protein. There is, for example, a Baked Onion Salad with Peppers and Anchovies. And Spinach Sautéed with Raisings and Pine Nuts.
French scrambled eggs can only be described as dramatically different from their simplistic American cousins. The Basque Style scrambled eggs include ham and pepper and onion hinted with garlic, parsley and cumin. It's not an omelet, it's just scrambled eggs ala France.
There is a common sense, practical balance to the recipes here. In Asian cuisines, for example, a recipe might have two dozen ingredients. Here, it's typically a mere dozen. No recipes with just three or four ingredients, mind you. There is a serious number, determined over decades or centuries. A little of that, some of this, and just a pinch of this other thing, too.
So the Grilled Pork Chops Normandy Style are cooked in cider, with some sliced apples, and just a dash of Calvados. Enough complexity to make a great meal. Not so much to swamp a home cook who is always multitasking.
French Cooking En Famille is a book that captures the dishes of the French home in the second half of the 20th Century. It's an important snapshot of dishes that did not often appear in restaurants and now may be disappearing even from the home kitchen. There are true pleasures here, pleasures perfected by generations of mothers and grandmothers, pleasures you can enjoy in this new 21st Century, too.