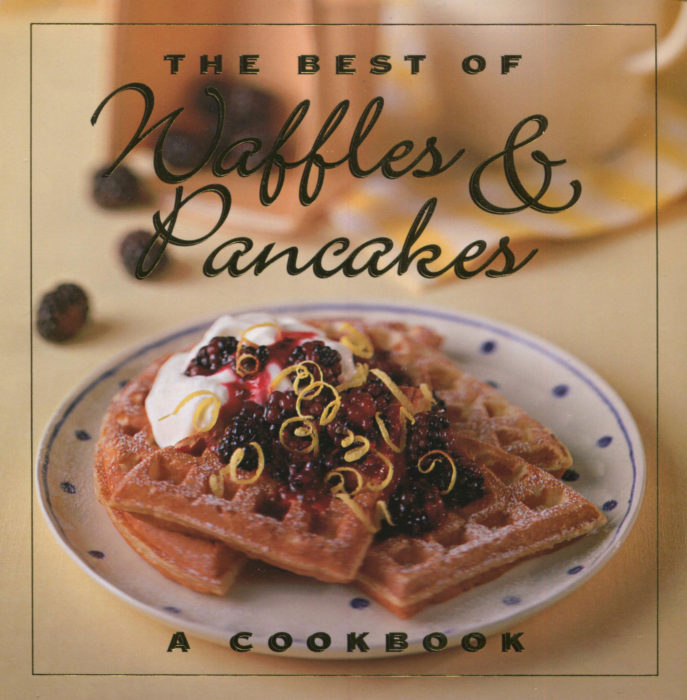 When she was young I introduced my daughter Kelly to the glory of waffles. Waffles with strawberries was a Sunday morning ritual. Yes, there were pancakes too, but it was the waffles that were the culinary gem.
Decades have passed. I am still 39, been stuck there for a bit, but Kelly is now about to turn 49. That seems quite impossible. I can lose track of a several days, a couple of weeks, but gee whole decades?
And the roles have reversed. "I'm making you Lemon Waffles with Blackberries," she told me last weekend. "They are from this great cookbook I'll show you." Suzi and I were visiting Seattle and Kelly was in full "I am now in charge of the kitchen" mode.
What could I think? A lemon waffle? That's not Bisquick. And Bisquick is what a waffle is, just like Kraft is what a vanilla caramel is.
I kept my mouth closed and waited. I opened my mouth for that first bite. I ate. I picked up my phone and got to Amazon and ordered The Best of Waffles and Pancakes by Jane Stacey. I've never done a book order that quickly before. I am so glad I did.
Jane studied at the New York Restaurant School, authored this book and others, and is now the Program Director for the Cooking with Kids Program in Santa Fe. She just keeps contributing and thriving.
And thrive you will if you cook for yourself from The Best of Waffles and Pancakes. There are four chapters for Sweet and Savory Waffles and then Sweet and Savory Pancakes.
Those pancakes ideas are good, I must admit:
Fresh Ginger and Carrot Skillet Pancakes

Sweet Corn Cakes with Roasted Pepper and Tomato Relish

Blue Corn Pancakes with Honey-Red Chili Butter
But it is those waffle ideas that have me intrigued and cooking:
Belgian Waffles with Strawberries and Cream

Cheddar and Onion Waffles with Fresh Peach Topping

Whole Wheat Sourdough Waffles with Cinnamon and Raisins

Yogurt Waffles with Melon and Mint

Sour Cream Waffles with Walnut Butter and Cherries
You can find a wondrous new waffle for pancake idea for each Sunday during this summer. No repeats, just treats. This book is now 24 years old and still powerful, still thriving like its author. It just 15 years it will be 39 years old. I won't be.
I will post the lemon waffle recipe soon and the Belgian. Here's a picture of the luscious Belgian with strawberries [and no cream, not at my age]: