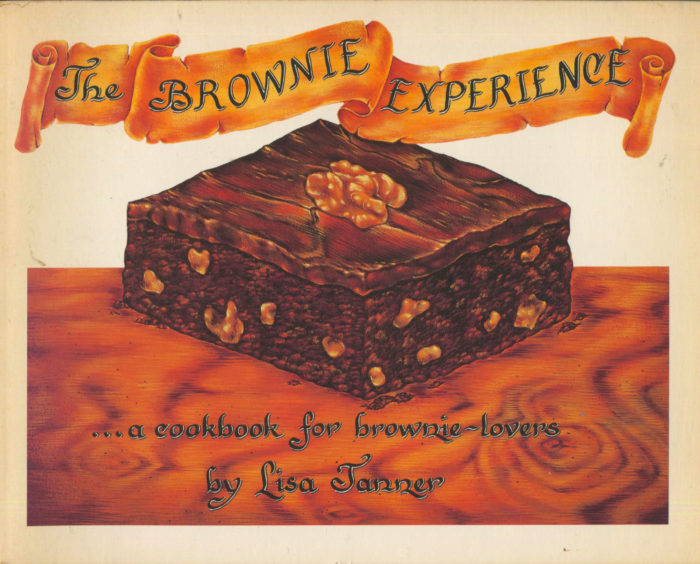 Lisa Tanner wrote two cookbooks, this one The Brownie Experience in 1984, and The Potato Experience in 1986. I have not had the potato experience yet, but I've had many brownie experiences over the years. This is one of the older brownie books in my collection and I'm always amazed at the rich diversity it presented "way back then."
Chapters are devoted to:
Brownies with Chocolate in the Batter
Luscious No-Bake Brownies
Chocolate-Chipped Brownies
Chocolate-Less Brownies
Health Conscious Brownies
Elegant and Exotic Brownies
Ah, yes, Lisa had a wide perspective on brownies. No, I've not attempted the chocolate-less or health conscious ideas. The book has almost 100 recipes so I can stay true to the brownie concept that is the "true" one, the real American one.
The first recipe in the book, Sour Cream Chocolate Chip, is very good indication of the richness awaiting you in the book. Fruit, marshmallow cream, and caramel dot the pages of the book. The there is a no bake Black Bottom Brownie that [1] you really don't have to bake and [2] you'll keep producing each and every month for the rest of your life. I don't know why she didn't put in the Health Conscious chapter.
The elegant brownies are over the top with powerful flavor. The Deep Dark Espresso Brownie calls for a half cup of espresso powder. No, not a half cup of espresso liquid you could drink. A half cup of high octane granules. I need to work long hours this weekend. I think this brownie can help me make it through the night.
Other brownie ideas include:
Chocolate Butterscotch Swirl

Yogurt Almond

Fudgy Raspberry

Butter Rum Raisin

Double Rocky Road

Spiced Cranberry Walnut
Somewhere in the pages of The Brownie Experience you'll find that treasure you have been hoping for. Perhaps you already know you need butterscotch or the cranberry idea may strike you as ideal for your Thanksgiving table.
Or, you just might want a bite of something soft and chocolate and sublimely satisfying. You'll find it here.