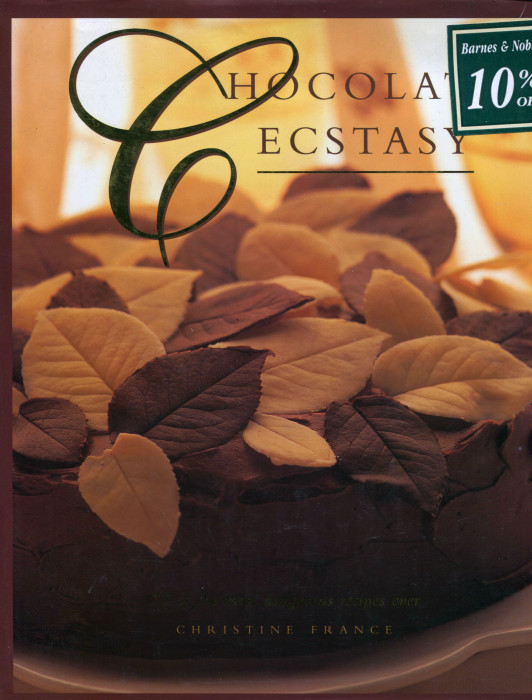 Suzi and I just returned from ten days in Paris. My nose is slightly flattened. Every block, I had to stop and press my face against the glass of the "best patisserie I've ever seen." Block after block. It's a good thing that sugar has to actually be ingested, rather than just observed, to affect your glucose level. Although I got pretty excited at times.
And so did Suzi. We looked at the perfect pastries — cakes, tarts, cookies, choux wonders, macaroons — and had the same question we always do: how do they make all this stuff. And do it so perfectly.
Christine France is a cookbook author with many fine volumes in her repertoire. This book, Chocolate Ecstasy from 1996, is a treasure of wonderful Paris-class recipes. The picture at the bottom shows a White Chocolate Cappuccino Cake: luscious, rich, and apparently complicated.
But it's doable. Like the other recipes in Chocolate Ecstasy, this is a two-pager with one big picture and then text with several smaller photos inserted to show the step-by-step path from eggs, sugar, coffee, flour and white chocolate to this patisserie-class marvel. It looks complex, but it really is not. If white chocolate and coffee make you smile, then you will probably be fully laughing as you make this treat and then gobble it away.
The 75 recipes in Chocolate Ecstasy include:
Cranberry and Chocolate Squares

Chocolate Cinnamon Doughnuts

Frosted Chocolate Fudge Cake

Baked Chocolate and Raisin Cheesecake

Chocolate Roulade with Coconut Whisky Cream

Rich Chocolate Brioche Pudding

Chocolate, Date and Almond Filo Rolls

Raspberry, Mascarpone and White Chocolate Cheesecake

Rich Chocolate Pistachio Fudge
The recipes are "simple" in that they are all just one page: a few short paragraphs. The recipes are "complex" in that multiple flavors and textures are intertwined to give you something that looks luscious and tastes that way, too. The Frosted Fudge Cake, for example, just goes that extra step from chocolate cake with chocolate frosting to dense cake slathered with fudgy frosting. The cake is made with brown sugar and yogurt. And, there is yogurt in the frosting, too, to make this cake completely tangy and refreshingly different.
Chocolate Ecstasy is filled with recipes following this double theme: beauty to the eye, surprise to your mouth. It's a lovely book, unfortunately out of print but available still through the used book section at Amazon. If you add this book to your library, you will indeed find ecstasy.