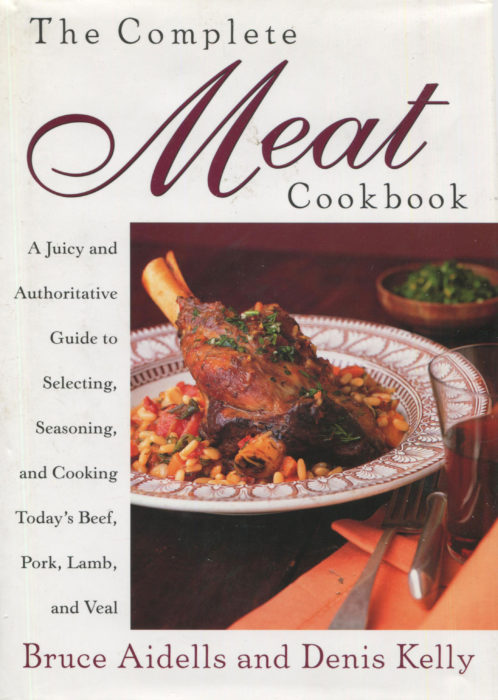 You know the name, the brand: Aidells. You may well have sampled his sausages in the past couple of decades. Teaming with writer and food expert Denis Kelly, Bruce Aidells fashioned four major meat cookbooks. This one, written in 1998, describes itself as the "juicy and authoritative guide to selecting, seasoning, and cooking today's beef, pork, lamb and veal."
The book was an immediate success and remains a definitive guide to eating meat. Now, in the past twenty years, "meat" has acquired some controversy. Lots of people are "down" on meat but, as Bruce and Denis describe, meat has been an essential part of human food consumption.
Our grandparents and great grandparents ate meat rich with streaks of white fat. Oh, fat! Oh, dear, we had better buy the leanest cut possible. All red meat, no fat. Ah, but it is the fat that contributes so much to flavor and affects the cooking process. With a whole new generation of lower-fat meats, what are we to do? How could we cook today's meats and achieve yesterday's flavors?
The answers unroll across the pages of this book. There are chapters for beef, pork, lamb and veal. Each chapter has sections about how to buy the different cuts for that meat, for example, pork chops versus roast versus ribs. And then come the recipes, almost 600 pages of meaty content.
Here's sample of the very carefully crafted recipes that await you:
Grilled Beef Rib-Eye with Chile Tomato Vinaigrette

Sauteed Filet Mignon with Artichoke and Mushroom Ragu

Braised Swiss Steak with Mushrooms and Grappa

Beef, Turkey and Andouille Meat Loaf

Sauteed Pork Chops with Vermouth and Mustard Sauce

Sauteed Pork Chops in Spicy Gingersnap Gravy

Grilled Pork Tenderloin with Rosemary and Fennel Seed Crust

Roasted Pork Tenderloin with Rum, Maple and Pecan Glaze

Cured Pork Loin Roasted with Parsnips in Maple-Vanilla Sauce

Caribbean Pork Braised with Limes and Oranges

Caramelized Pork Shank and Braised Cabbage

Pan-Broiled Lamb Chops with Eggplant, Tomatoes and Feta

Braised Lamb Chops in a Piquant Sausage and Anchovy Sauce

Braised Shoulder of Veal with Apples

Veal and Asparagus Stew in Lemon Sauce
As you can see, in the absence of fat, the techniques are to adorn the meat with flavor companions that, while not overpowering, surely stand proudly on the plate. Cooking techniques vary, not simply broiling, but braising and stewing. In many cases, the recipe takes a little time because the most important ingredient, after the meat, is time itself. The recipes are described in half a page, there are a dozen ingredients or more, but that is why you have a bottle of red next to you.
This book is a treasure chest of fabulous recipes. If you have not indulged before, you should now. You've wasted 20 years! Waste no more. And, do look for fat.