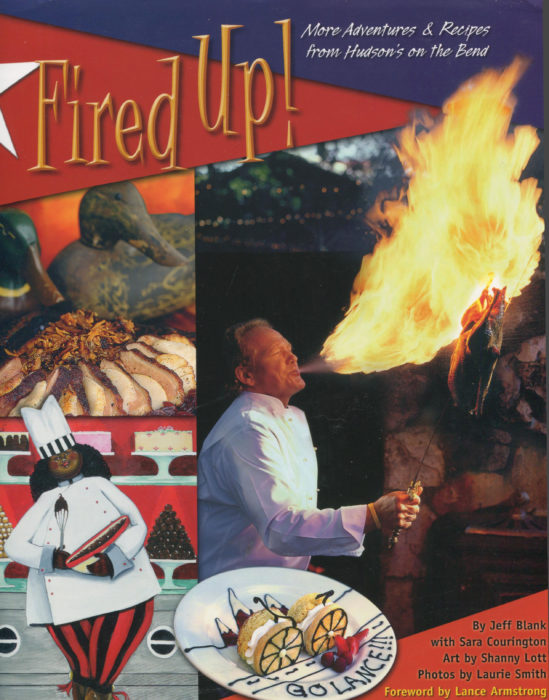 Two weeks ago I did a TBT review for Cooking Fearlessly by Jeff Blank. The book was a celebration of Jeff's famous Hill Country restaurant Hudson on the Bend. Sadly, Jeff sold the restaurant a year ago and this year it closed. We can only hope for a resurrection of that Texas heat.
Jeff did write this second book, Fired Up! in 2005. It continues his tradition of, what else can I way, outrageous culinary inventiveness. Certainly, this book must set the record for the recipes with the l o n g e s t titles imaginable. These are real restaurant dishes where a complete kitchen team is needed to create all the components that are then assembled into the final dish.
Still, these are approachable recipes. If you want a great Saturday night meal, you shop on Friday and start Saturday morning. Early. None of the individual components are that complex, really. A handful of ingredients. A modest amount of time. It's just that you will be doing three or four or five of them before it comes time to fashion the completed dish.
Here's a recipe sampler for you, with some of the long ones and some simpler ideas, too:
Seared Duck Liver Atop Truffled Smashed Potatoes with a Red Onion Apple Jalapeno Marmalade

Apricot and Butternut Squash Soup Spiked with Thai Green Curry Topped with a Tea-Smoked Lobster

Gewurztraminer Poached Pear with an Herbed Goat Cheese Atop Arugula in a Sherry Vinaigrette

American Bison Stuffed with a Blackened Turkey Tenderloin

Chicken Fried Antelope with a Red Eye Gravy

Grilled Salmon in a Gingered Corn and Herb Broth Atop Baby Bok Choy with Shrimp Dumplings

Grilled Peaches with a Spicy Lemon Honey

Ancho Pepper Pecan Pie
These dishes "sound" colorful enough, like that squash soup topped with a deep red smoked lobster tail. They are brilliantly colorful in the photos on each page. The book is a circus incredibly dense and rich color as each plate sizzles by.
The good news is that you could "pause" a recipe here. That squash soup is, by itself, delightful. You can hold the lobster. If you dare.
Heat is everywhere, even in the desserts. I love pecan pie, surely for its dense sweetness. But how could you resist layering on ancho chile heat?
You won't find this inspiration and creativity anywhere else. You can still find Cooking Fearlessly and Fired Up! on the web. You just might take a crack. All you need is time. And chiles.