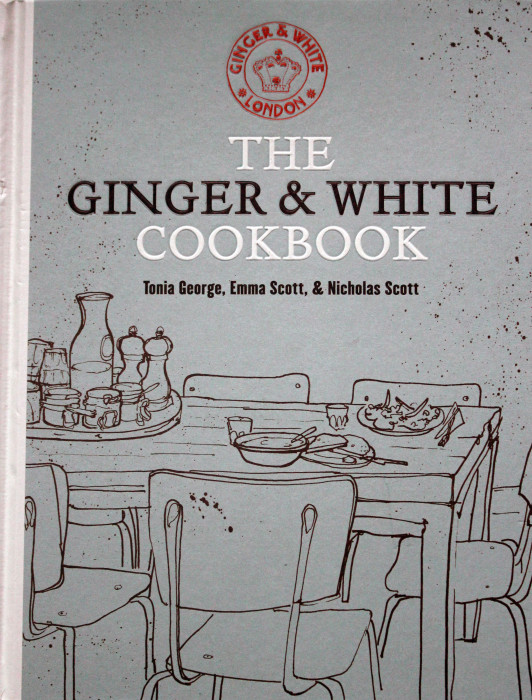 Ah, the tail end of winter. Mardi Gras is gone. We have Valentine's Day to look forward to and weeks of cold. Maybe even snow — so little snow this year in NYC I am thinking we might have climate change. It's a time to sit back with interesting cookbooks and reflects. Learn something new. Truly new and quite different. From six years ago, here is a British cookbook to make you warm and comfy,.
---
Northwest of downtown London is Hamptead and there you will find Ginger and White, a neighborhood establishment that is a "child friendly coffee shop serving artisan espresso coffee, British sandwiches, salads, and breakfast."
There are a couple of things in that self-description to note. First, Ginger & White is child friendly, but also adult friendly too. For the kids, there is hot chocolate and muffins. For adults, espresso and so much more.
Second, they specialize in British food, that is the very particular contemporary British style we are all coming to love. The firm's founders — Tonia George, Emma Scott, & Nicholas Scott — have taken their brick and mortar experiences and put them on paper. The Ginger & White Cookbook has just been published this month and you should hunt down a copy for a search and inspiration. Take some time and you'll become a devotee of new British casual food.
Let me tell you why.
It's a coffee and espresso shop, so the very first four pages are about how to make a perfect espresso. I know. Why bother? You can drive or walk to Starbucks, right? Yes, but, and this is the truth, Suzen and I do buy Starbucks coffee but we have a home espresso machine and our home version is much, much better than anything anywhere. Beyond the coffee, we have a specific technique that matches the one in this book, and the technique works. You do need to tamp the coffee correctly in that basket, and pull the shot just so long. Steaming milk sounds like a simple thing to do, but you can get awful results and a tragically messy kitchen if you don't have the technique down just right. That technique is here.
Once you have your espresso, you need something to eat for breakfast. Here are some very Ginger & White ideas:
Toasted Banana Bread with Vanilla Cream Cheese, Rhubarb, & Raspberries
Spicy Baked Beans with Red Bell Peppers, Chorizo, & Feta Cheese
Mini Frittatas [Cheddar with Thyme and Caramelized Onion, Salmon with Onion and Anchovy]
Fried Duck Eggs with Blood Sausage and Sourdough Croutons
If you go to Ginger & White for lunch, you can dine on:
Smoked Mackerel, Fennel & Chickpea Salad
Corned Beef, Red Onion & Potato Salad with Anchovies and Capers
Ham Hock Potato Cakes with Minted Peas, Shallows and Parsley Cream
Spiced Butternut Squash & Coconut Soup
Fish Stick, Lettuce & Tartar Sauce Sandwich
Coronation Chicken Sandwich [with yogurt, mayonnaise, korma paste, mango chutney, honey and butter]
If you want to just go to the counter to take home something sweet, then your options include:
Gluten-Free Almond & Pistachio Cake
Mini Gooseberry & Elderflower Sponge Cakes
Caramel Croissant Bread & Butter Puddings
Coffee & Walnut Triple Layer Cake [a British staple!]
If you read the recipe titles, and if you have book open and can gaze at the pictures, you are stuck by how familiar and yet somewhat distant it all seems. The ingredients are mostly the same, perhaps not that korma paste, but the combinations are just, well, different. They reflect contemporary British food style and history. There's chutney in many of the recipes and coconut in that butternut squash soup — all reflective of the deep intertwined history of the British Empire and India. This aspect of the history is gloriously enriching.
And there are the little things that the gardening-mad British created and we can cherish. Minted peas and parsley cream.
The recipe titles tend to be long because, thankfully, these dishes are collaborations of flavors and textures that take just a little extra effort but yield magnificent rewards. Take that Toasted Banana Bread. It comes with, not just cream cheese, but vanilla cream cheese: cream cheese + yogurt + vanilla bean paste + powdered sugar. It's a very clever idea and perfectly mated here with raspberries, who have their own distinctive tang.
That's the "perfected genius" of Ginger & White. These are really simple dishes, ones you might consider comfort food. The simplicity is not lost in the Ginger & White versions, but some extra ingredients and effort here add a dimension of distinctive elegance that you will instantly appreciate.
So, look for a copy of The Ginger & White Cookbook. It is published by Mitchell Beazley, an imprint of Octopus Publishing Group. You can, of course, find Octopus books online, but you can also find them in lovely neighborhood book stores where the owner has an eye out for the best in cookbooks. These are.
Oh, the Vanilla Cream Cheese works