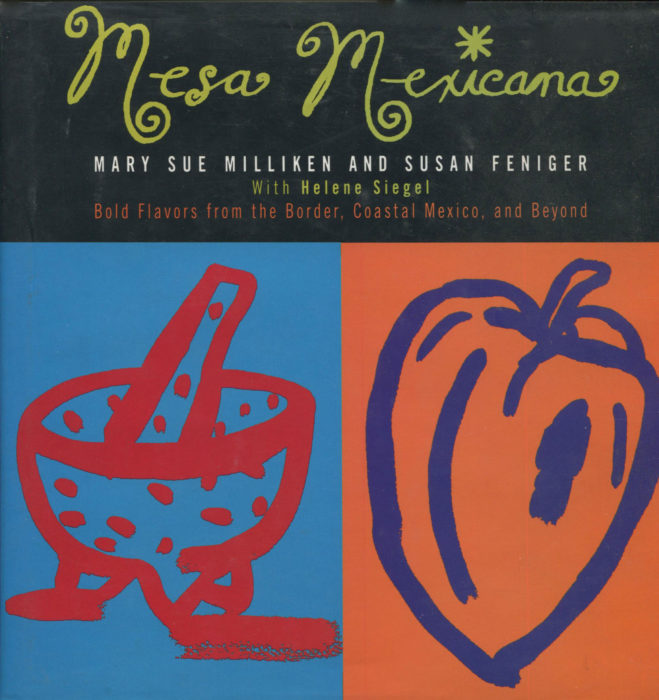 Right as the 80's began, Mary Sue Milliken and Susan Feniger created a series of great Mexican-American restaurants, were TV stars and wrote great, great cookbooks. Mesa Mexicana was published in 1994 and remains a star book. Mary Sue and Susan were meticulous researchers and chefs. They wanted authenticity and they demanded quality. Have you ever had a perfect salsa? Something you would inject in your veins? Ever wondered how you could ever do that yourself.
Well, this book has many parts and the salsas are part of the outstanding array of recipes you will find here. Tomatillo salsa. Both with raw tomatillos and one with cooked ones. An ancho chili salsa that will bring tears, but joyful ones. Classic, perfect gaucamole.
Beyond salsa and chips, there are full bodied recipes that will engender sighs of pleasure. The Green Chicken Chilaquiles Casserole is a meal you would consume once a week and, yes, the leftovers are wonderful.
There is a tapas-like structure to the book. Chapters appear for dips and salsas, stuffed treats, and  marinated openers. And then chapters for full fledged dishes: seafood, poultry, and meats. Here's a dozen ideas why you want to explore and use this book:
Baked Yams with Lime and Honey

Green Chili Paste [for any protein]

Mushroom Empanadas

Zucchini Blossom Quesadillas

Yucatecan Chicken and Lime Broth

Carnitas Tacos

Poached Eggs in Chile Broth [yes, breakfast]

Soft Shell Crabs with Tomatillos and Brown Butter

Panfried Chicken with Ancho Chiles and Mushrooms

Pickled Pork Tenderloin

Oaxacan Chocolate Mocha Cake

Pineapple Upside-Down Cake
Reading this book, you do want to head for Mexico, glass in hand. But, if you can't fly south, you can savor the delights in your kitchen. Because these recipes are authentic, the ingredient list is often long, there may be several steps, and time can be demanded. But, the resulting perfection is worth the effort.
Mesa Mexicana was bright and important when first published. It still is. And it remains a book you'll enjoy one chip at a time. Those tomatillo salsas are awesome.