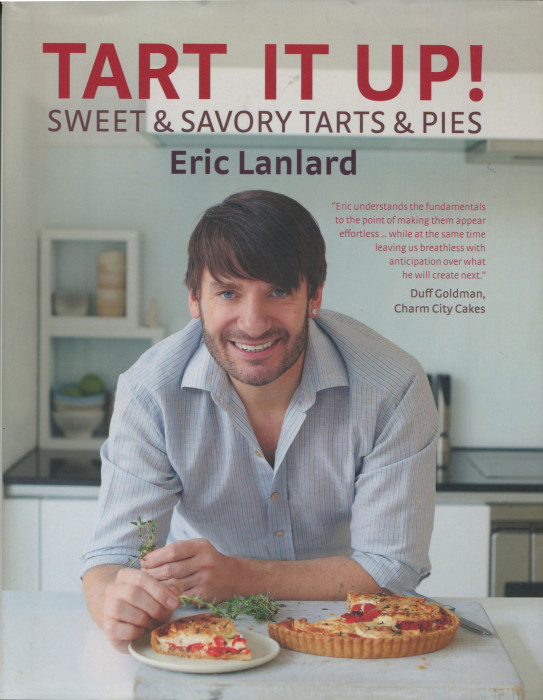 In these days of being locked down at home, cooking chores can weigh on us all. One key trick is to make dishes that give you leftovers you really want to eat. Like a tart with a wonderful crust and a yummy filling. A tart for your main course or a tart for dessert. Eric Lanlard published this book in 2015. It is filled with ideas that you will find delicious, today and tomorrow. Maybe even tomorrow morning. Golly, since you are locked down, why not finally learn to master crust from a master of tarts.
---
Have you ever been confronted by massive stupidity? Your massive stupidity?
I can't believe I didn't do something. Just three years ago, almost to the day, we had a cookbook signing here at Cooking by the Book for Tart It Up! by Eric Lanlard. Eric began life in France, learned to bake in France, moved over the Channel, and is a deserved sensation in Britain. He has nine cookbooks and I will call all of them my favorites — particularly Tart It Up!
Today, I went to see which recipes I had blogged from the book and what the book review was like. Oh, dear, nothing. Nothing at all. I wrote nothing, even though Suzi and I have done a dozen of these recipes and marveled at his tart and pie doughs during these three years.
It is time to undo this oversight. It is very much the time, because today I was hunting for savory recipes to share during the holiday period. Yes, Eric is famous for his sweet side and Tart It Up! has an entire second half devoted to your sugar cravings.
But it's the first half, the savory tarts and pies, that you'll find so useful now. For a holiday meal that is enticing and yet personal, savory tarts simply cannot be topped. Well, actually, they are topped. With crust. And it is that crust that seems to appeal to each of us. A crust on top generates a feeling of comfort food, of something homey and cozy. What surprises like below the crust?
At the bottom of this post is a picture of the Iberian Chicken Pie with Chorizo. I'll publish the recipe later this week. It's a lovely dish, one where you begin by cooking the chicken separately. Gee, let's see, this month or next will you have a supply of cooked poultry on hand? How about this dish with your leftover Thanksgiving or Christmas turkey instead of the chicken? What a lovely way to make leftovers into a super meal.
Other savory ideas in Tart It Up! include:
Caramelized Onion and Feta

Heritage Beet and Broccoli

Scallop and Mushroom

Turkey and Chestnut

Brittany Seafood

Lamb and Moroccan Spice
These dishes are not at all hard to assemble, not with Eric's excellent recipes. From the perspective of sight and taste, these recipes are very hard, if not impossible to top.
Okay, you want to know about the sweet ones, too, right? Here are some examples:
Baked Raspberry and Basil

Southern Chocolate Mud Pie [from a Frenchman living in Britain]

Chocolate Crumb Tart

Warm Flambéed Banana

Apricot, Honey and Pistachio
Many of these sweet ideas would be lovely on a holiday table. Or, any weekend table. Or, heck, any table any day.
If you love to bake, savory or sweet, and you want to raise your skill level then Tart It Up! by Eric Lanlard is simply a must for you. It's a beautiful book with sumptuous photos, excellent recipes and tips, and an underlying passion for power of crust. Don't ignore this book. Now, that would be stupid.