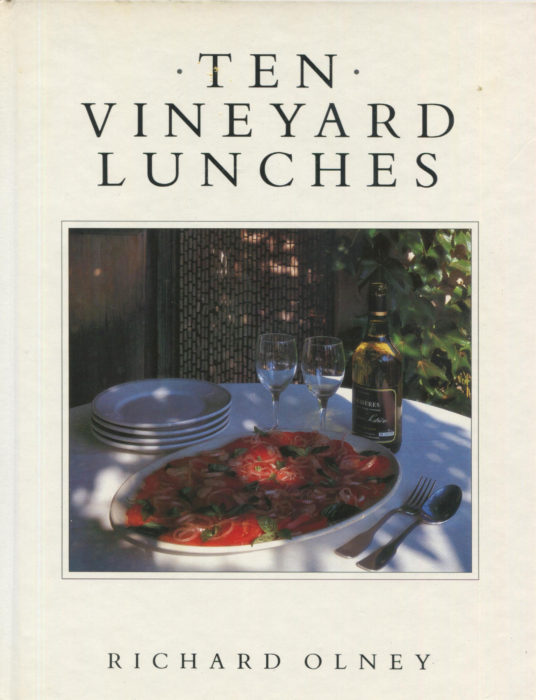 If you open this book, your first sense may be one of loss. Where are the food writers of today that can match Richard Olney? I don't think they exist, and they may never do so again.
Born in Marathon, Iowa, Olney moved to Paris by the time he was 24. He lived in Provence for most of his life, writing and revolutionizing American cuisine. He was at the forefront of the movements we now call nouvelle and California cuisines. His most important contribution was the masterly editorship of the 28-volume set The Good Cook by Time-Life. The series is a classic that Suzi and I treasure.
This book, written in 1988, presents ten lunches suggested by different seasons and locals, all French wine regions. A wine expert beyond compare, Olney writes as much about the regional wines and possible matchings for his recipes as about the recipes themselves.
Today's cookbooks are oh so friendly and informal. Not this book. You might find the tone stark when you first begin, but then you'll sense the intellectual power and culinary expertise that lies behind every recipe.
Here's an example. For the wines of the Northern Cotes du Rhone, Olney suggests a main course of Stuffed and Braised Lamb Shoulder. The stuffing is bread crumbs, salt pork, and persillade. To serve as the side for this most hearty meat dish, Olney present a White Puree of turnips, celeriac, and potatoes. This recipe was a bit spontaneous: Olney want rutabagas but the local market only had the turnips. Olney was all about fresh and local. So, turnips were in.
Ah, but Olney goes on about the turnips. They hold water when cooked, so first he parboils them, then cooks them in butter to first dry them out then prevent them from becoming too thin. The cooking liquid for the celeriac, onions and potatoes is described as a significant side benefit: rich enough to be served as a soup, a sumptuous stock to provide an excellent risotto or minestrone.
The ten regions of France covered in this book include:
Northern and Southern Burgundy
Northern and Southern Cote du Rhone
Southwest
Northern and Southern Bordeaux
Loire
Jura
Alsace
Do the northern and southern regions really differ so much they deserve separate menus? Oh, golly, that would make Olney turn in his grave. The man knew about terroir and how adjoining hillsides could be starkly different. He could talk for hours about how Northern and Southern Burgundies were totally and wonderfully different.
The luncheon menus are short, three or four items. And, yes, they all end with  desserts like:
Honey Ice Cream with Raspberry Sauce

Gratin of Fresh Figs

Almond Bavarian Cream and Peaches in Sauternes

Pear and Red Wine Ice

Peach and Bread Pudding with Sabayon Sauce
Before you begin making dessert, though you may want to consider the main courses:
Duck Terrine [scaled for 50 people, Olney entertained]

Stuffed Braised Squid

Truffled Sausage with Pistachios

Braised Rabbit in Saffron Cream
All these sophisticated recipes roll on, page after page, with no discussion or exaggeration about the elevated meals they suggest. No, these are just the meals Olney would expect to cook and to enjoy. Every day.
I can only suggest that you cook and enjoy too. And remember Richard Olney as a genius who has impacted all our lives. This little book easily explains why.