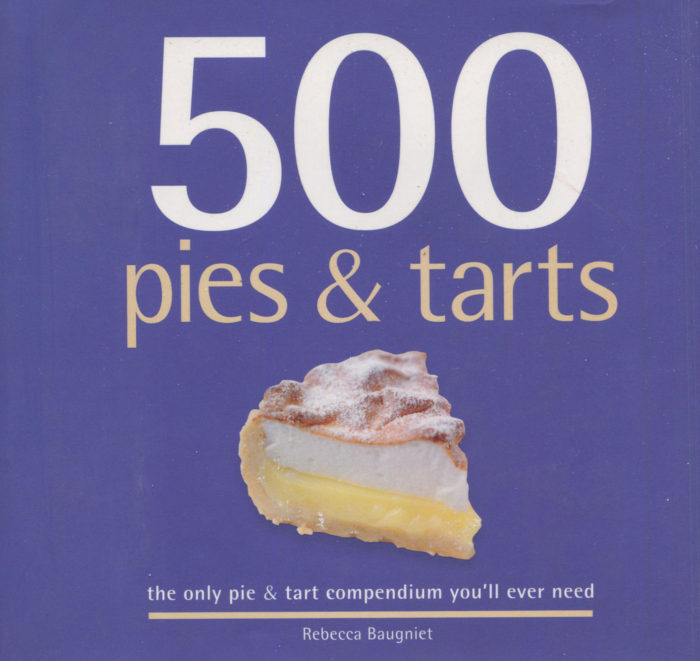 It's late Monday night and I'm working on this review. I wanted to have it done by midnight, but this lovely, lovely book is filled with ideas. I need another hour or two!
---
Ah, it's 12:22 AM and here is the full review.
This is my second review of a "500" book, a terrific series of books from Sellers Publishing. Two weeks ago I wrote about 500 Casseroles. Those are wonderful, healthy recipes, the epitome of comfort food in some cases or outright Parisian sophistication in others.
Time for dessert. Well, actually, a remarkable balance of dessert and savory. Consider these chapters:
Pies and Tarts Basics

Classic Pies and Tarts

Fruit Pies and Tarts

Cream, Custard and Chiffon Pies

Meringue, Frozen

and

Chilled Pies

Savory Pies and Tarts

 Mini Pies and Tartlets

Individual Pies and Turnovers

Cobblers, Strudels and Crumble Pies

Special Occasion Pies.
Those classics begin with apple pie and lemon meringue but quickly escalate to this wonderful Glazed Fruit Tart:
 
Suzi and I turn more and more to tarts for main courses. Here's a wonderful example from the book, Mixed Mushroom Tart with Gruyere and Pine Nuts. Add salad and wine for total satisfaction.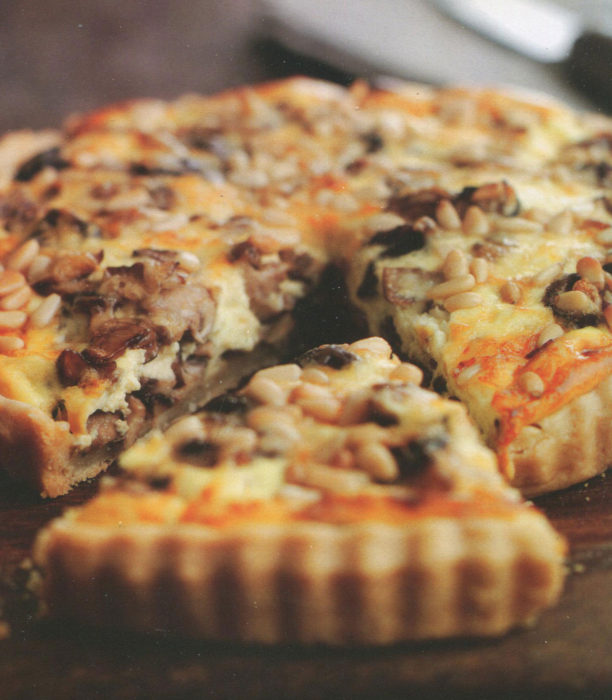 Each of those chapters has about a dozen basic recipes, then a page of four or five variations for each basic recipe. So, for that Mixed Mushroom Tart, the options are to
Use a whole-wheat crust instead

Add herbs such as thyme to the mix

Include onions

Use puff pastry instead of classic crust
And, for that Glazed Fruit Tart your options include:
Using a citrus-based crust

Use only a mix of tropical fruits [mango, papaya, passion fruit

and

kiwi]

Apply only strawberries on top

Employ a vanilla sweet crust

Substitute a hazelnut sweet crust
These are modest changes to the basic recipe, but interesting ones. You'll get an adjusted flavor profile and you may be inspired to try experiments of your own. Don't make just one change: do it multiple times. Try the Glazed Fruit Tart with just strawberries on top and that hazelnut sweet crust on the bottom.
There are real treats awaiting you here. I know, it is early February and spring seems a long way away. But, spring will come, rhubarb will appear and here are some of the 16 rhubarb ideas waiting for you:
Pink Rhubarb Custard Tart

Rhubarb Crumble Pie [or Tart]

Rhubarb-Orange Meringue Pie

Strawberry-Rhubarb Pie with Streusel Topping
There are long lists for strawberries, raspberries, and bananas. There's a shorter list for parsnips, but you just might consider that too.
500 Pies & Tarts will keep you very busy in the kitchen. You can have a savory tart for appetizers, a pot pie for dinner, and a crumble dessert to end the night. It's a happy book, one filled with easily followed recipes. There are 500 reasons here to put 500 Pies & Tarts in your kitchen!
That chapter on Special Occasion Pies? Ah, that's where you find Eggnog Chiffon Pie.