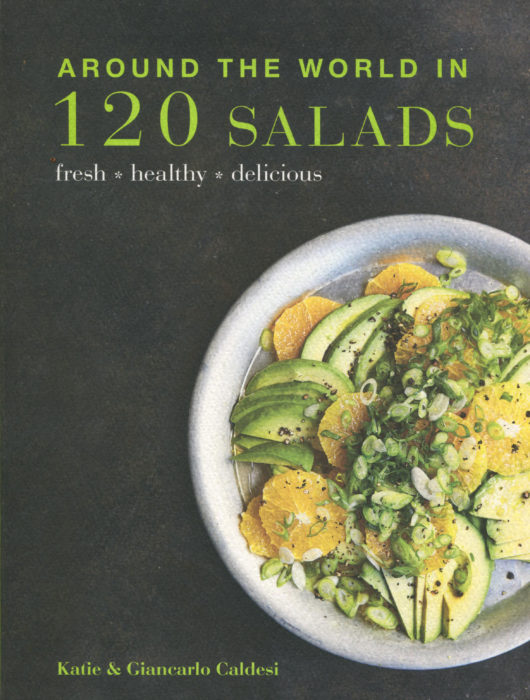 Ooops.  I got this book a year ago and Suzi and I have been happily exploring it. I knew I had blogged it and I was checking just when and … My goodness, I have messed up. Badly.
You may not recognize the names Katie and Giacarlo Caldesi, but you will. This fall they will publish their 10th book: The Long and the Short of Pasta. They produce regional cookbooks, like their awesome Sicily, technique books like The Gentle Art of Preserving, and topic books like Around the World in 120 Salads. You can follow the links here to my earlier views of those two grand books.
The authors simply could not go around the world in 80 salads. They needed all 120 and you will be so glad they did. I know now what you are thinking. Salad? Uh, some lettuce, tomato, onion and you open a bottle and you are done. It's that simple.
No, it's not that simple. You need to expand your salad horizon, and this is the book that will do it. Consider this picture: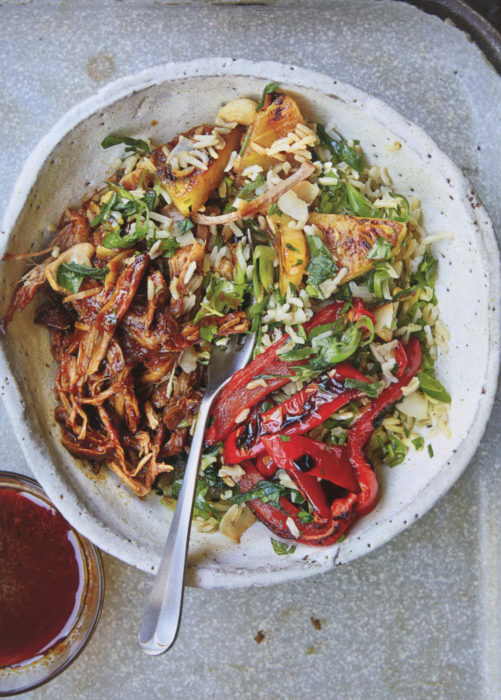 That's Pineapple and Cashew Rice Salad with Hula Pork and Roast Peppers and it is a long way from that lettuce+tomato+onion+bottle. A very long way. This example is so wonderful that I will post the recipe later today.
But that leaves 119 other gems to sample. Chapters here include:
Dressings
Rise and Shine [yes, breakfast salads]
Salads from the Farm
Salads form the Sea
Salads from the Garden
On the Sweet Side [fruit + sweeteners!]
These salads can be sides, of course, but many of them have such substance that you can make them the main attraction on your table and gobble away. Ideas, most fulfilling and complex ideas, abound like:
Vietnamese Vegetables with Peanut Butter and Tamarind Sauce

Tabbouleh with Pulled Lamb Shoulder with a Spiced Date Crust and Minted Labneh

Confit Duck, Crispy Potato, and Garlic Salad

Asian Rainbow Slaw with Korean Beef in Lettuce Wraps

Greek Lemon Chicken, Grain, and Feta Salad with Tzatziki

Roasted Pumpkin, Broccoli and Bacon Salad with Mustard Dressing

Kale Salad with Date Vinaigrette and Sour Cherries
After looking at this book, after using it, Suzi and I would ashamed to just do the lettuce + …  thing. Ashamed. This book is your chance of a lifetime to take a brand new path in your kitchen. Talk about expanding your horizons! Here you can take 120 steps on that path and relish every one of them.
This is a brilliant, must-have book by an extraordinary husband and wife team. Oh, they have restaurants and a cooking school, too. So busy in their life they only have time for salads.