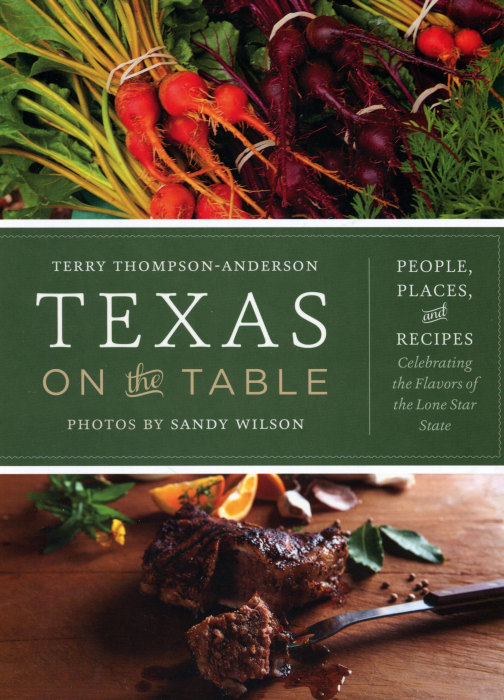 How would you like to elevate your personal cooking? Really, truly elevate it. What if you could create signature dishes, ones you would expect to find in a pricey and multi-starred restaurant? What if you could do that yourself and, as a side benefit, do it with just a little jalapeno-chipotle sizzle?
No, you do not need two years of culinary school in Mexico. You need your own copy of Texas on the Table, the very magnificent new volume from Terry Thompson-Anderson and published by the University of Texas Press.
Terry lives in the Texas Hill Country and is a cookbook author and food journalist. She knows Texas and understands the impact of terroir on the many food products grown in the vast State of Texas. UT Press has recently offered us very thick, very beautiful and very meticulous culinary volumes, like Yucatan by David Sterling. Texas on the Table is yet another notable work.
Begin with France. You know from the map it is a large nation, 250,000 square miles, and has multiple regions, each with their own special culinary offerings. You know that Normandy is far from Provence, and the Normans enjoy apples, not lavender.
Texas is bigger: 276,000 square miles. Officially, it has 10 climatic regions, 14 soil regions, and 11 ecological regions. Travel a few dozen miles on the Texas byways, and you will likely be a region with its own unique terroir. And the chances are there will be people on that land taking advantage of that particular combination sun and soil and water.
The people in Texas are a mixture, too. Of course there is the Hispanic component, but over the decades Texas has seen Greeks, Germans, Czechs and other groups form regional communities. They brought their culinary history with them, and have adapted it to Texas terroir.
Today in Texas, you can traverse the Hill Country to find goat cheeses that rival France. New olive orchards are being planted in South Texas, where the climate and the land will remind you of Southern Italy or Greece. And on the Gulf, you'll find oysters, shrimp, crab and all kinds of fish being hauled up from bustling fishing boats.
To enjoy all that bounty and diversity, Texas has over 300 vineyards, run by wine experts eager to exploit the sun and soil. Thirty years ago, you might have laughed at the idea of Texas wine. Now, you will gracefully sip away and consider another bottle.
Texas on the Table offers 150 recipes. Some simple, some complex, and most in-between. Terry provides her own recipes plus many from restaurants and homes across the state. These dishes reflect the scale of Texas, its multicultural heritage and, of course, the special heat that we associate with Texas food. Not Tex-Mex. Not simple chile. No, the recipes here reflect the sophistication of a people who, just like you, love their food and ingredients from their home gardens and local farms.
Let's look at some recipe examples, chapter by chapter.
Finger Foods

Texas has cattle that graze. So do Texans themselves. They love finger food, and here you will find:
Real Green Salsa made with both green tomatoes and tomatillos
Gazpacho Sorbet solidified with gelatin and served over crab
Boiled Texas Shrimp and Blue Crabmeat with Chipotle and Cucumber Dip
Bison Spring Rolls with Peanut Sauce
Country-Fried Chicken Livers with Biscuits and Andouille Gravy
Great Bowls of Soup and Comforting Bread

From the first recipe you know you are on a special food journey:
Avocado Cream Soup with Crispy Tortilla Strips and Shrimp Pico de Gallo
For your Thanksgiving table you might consider:
Chilled Yellow Squash and Poblano Chile Soup with Lime and Chile Crema
Or stuff your holiday bird with this diary-rich cornbread:
Skillet Cornbread with Yogurt and Buttermilk
If you love cream cheese dough, consider this Czech idea that incorporates Hill Country peaches:
Czech Cream Cheese and Peach Kolaches
Salads from Texas Gardens, Orchards, and Waterways

Texas is not all desert. There are forests and lush acreage where greens abound and, of course, that citrus belt in the far south offering:
Citrus Salad with Agave Chipotle Dressing
You can reverse your salad and make the salad dressing from the tomatoes, complete with some hot sauce ingredients:
Grilled Mushroom and Goat Cheese Salad with Fresh Tomato Dressing
From the Greek fishermen of Houston coast comes this combination of seafood and tomatoes:
Gazpacho Salad with Crabmeat San Luis
Fresh from the Waters

Seafood dishes in Texas can merge all the ingredients and techniques that the state has to offer:
Country-Fried Oysters with Texas Peach Remoulade Sauce and Pico de Gallo
Summer Corn and Shrimp on Wilted Spinach and Chipotle-Garlic Cream
With Louisiana and New Orleans just over the border, there naturally are Texas takes on New Orleans classics:
Soft Shell Crab Po'Boys
Mustard Fried Catfish with Olive and Caper Tartar Sauce
And if you possess a love for South of the Border cuisine, then your next flounder experience could be:
Flounder in Parchment Paper with Crabmeat and Tequila and Chipotle Butter Sauce
If It Flies

Chicken, turkey, and all other feathered friends are featured, often with a Mexican or Mediterranean twist:
Chicken Thighs with Pumpkin Seed and Tomatillo Sauce
Chicken Breast Rolls Stuffed with Goat Cheese and Spinach Served on Pasta with Basil Pesto
Quail Paella
On Four Legs

Yes, you will find beef and pork recipes piled high here. But they come in new flavor bundles:
Jaeger Schnitzel with Mushroom and Riesling Sauce
South Texas Heritage Pork Roulade with Sweet Corn Pudding Texas 1014 Onions, Beer, and Herbs
Open Face Cheese and Chorizo Chiles Rellenos
Beyond beef, Texans love other creatures, like bison, boar and — yes — bunny and Bambi:
Bison Enchiladas
Roasted Rabbit Leg with Fig Jam [with ancho]
Chicken-Fried Venison with Hatch Chile Cream Gravy
That last recipe epitomizes the charming quality of Texas on the Table. You may have had chicken-fried steak, but venison should be a new flavor version for you. And Hatch chiles, from neighboring New Mexico, offer a special heat that is tamed here in the cream gravy. This is the ideal "first" recipe to test from the book — or so I tell my chile-loving wife!
Sides and a Few Meatless Dishes

Yes, Texas may be a faraway land, but they do have Thanksgiving. Consider these ideas for your Thanksgiving table:
Thanksgiving Sweet Potato Casserole
Texas Goat Cheese and Cilantro Mashed Potatoes
Central Texas was, in the late 1800's, the destination for thousands and thousands of German immigrants. So it is natural to find:
Braised Red Cabbage and Bacon with Apples and Onions
There is French influence too as in:
Scalloped Green Tomatoes with Texas 1015 Onions Official State Onion
What is a Texas 1015 onion, you ask? Well, it's the Official State Onion by order of the state legislature. And it's a specially devised onion that is best planted on October 15th or 10/15 or just 1015.
The greatest ethnic influence on Texas cooking is, of course, Hispanic:
Jalapeno Corn Pudding
Grilled Cheese Sandwiches with Jalapeno and Cilantro
You did read that correctly. Transform your plain old grilled cheese sandwich by adding in heat and sweet.
Lone Star Sweets

Nothing portrays the multicultural heritage more than dessert. Every culture has its own dessert specialties and those wonders are rarely forgotten. I have a deep suspicion that, when you take home your own copy of Texas on the Table, you are going to fall prey to temptation and being in this glorious chapter:
Olive Oil Cake with Blackberries and Chantilly Cream
Slow Burn Brownies [with adobo sauce!]
Sticky Toffee Pudding with Custard Sauce
Salted Agave Caramel Ice Cream
Peach and White Chocolate Bread Pudding with Schnapps Whiskey Sauce and Chantilly Cream
Bananas Foster Cream Pie
See, you've already forgotten about the Chicken-Fried Venison or the Chicken-Fried Chicken Livers. You are going to start with the Bananas Foster Cream Pie. And why shouldn't you? Life is short and those bananas will spoil.
---
In summary, you want to gaze at this book. No, you really want to buy Texas on the Table. Take it home, and slowly drift along. Pretend you are tubing on the Pecos — something I have done and recommend. Sit lazily back and ponder what you might prepare, a single dish, an entire meal.
The very good news is that Terry is a seriously accomplished and talented writer. The recipe titles here do ring of a restaurant menu. The titles are sometimes "longish" and there are multiple components and steps to many of these dishes. But the extra time and steps are carefully presented. Nothing in this book will seem to be a high hurdle. And nothing is. Once, however, you have made your own Chipotle Crema, I must warn you, there is no going back. This book will change how you cook, how you appreciate food, and how you think about Texas.
I love France, but Texas proves to be equally special. It's all there in the pages of Texas on the Table.