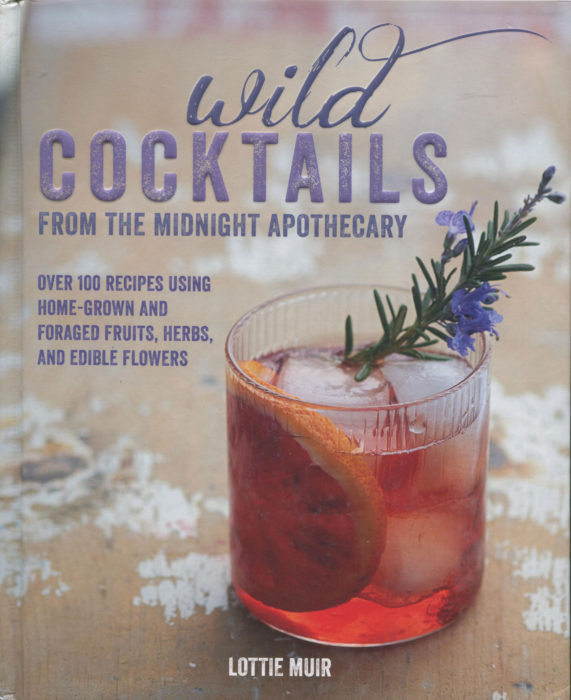 The past few years have seen a new acceleration in cocktail books. There are multiple threads evolving here. A return to classics, new adventures in experimental drinks from the cocktail castles in New York and London and Paris. And a return to elements that were first created in the 1800s. And readily enjoyed.
Those earlier elements I'm talking about includes shrubs and infused liquors and liqueurs. Oh, liquor versus liqueur? Liquor has alcohol. A liqueur has been sweetened using different flavors or oils or extracts. And in Wild Cocktails all of this is at play. All of it.
The subtitle to Wild Cocktails from the Midnight Apothecary is Over 100 Recipes Using Home-Grown and Foraged Fruits, Herbs, and Edible Flowers. You go out into your garden, or your local forest, and you pick things, bring them home and act a bit like someone in a mediaeval apothecary would have.
After an introductory chapter on cocktails making — the ingredients, the measuring, the mixing — there are two primary chapters. Cocktail Elements has you creating components: flavored liquors and liqueurs, simple syrups and bitters. Then come The Recipes where those elements are combined into quite inspired and smashingly sensational cocktails.
In tomorrow's recipe post, I'm giving you one of the cocktails in the book: The Strawberry Memory Heaven. It's one of the greatest drinks I've ever had or made. You can use gin or rum or vodka, because the booze isn't the motivating force here. It's thyme. The herb thyme. You make a simple syrup with thyme, muddle strawberries in the syrup, add the booze and lemon juice and, oh my, you get something intense. And, no in this cocktail, the flavors do not merge at all. Instead you have a ping pong game in your mouth as the strawberry and thyme bounce back and forth.
It's difficult to know where to start in this book. Because you can make, say, the Douglas Fir Vodka and use it later in the suggested Woodland Martini, or you can march right off with that vodka in hand and apply your own imagination.
The liquor and liqueur ideas here are immense, not little adjustments, but full throttle flavor amendments:
Black Cardamom Vodka
Wild Cherry-Infused Rye Whiskey
Rose Petal Vodka
Lavender Gin
Elderflower Liqueur
Geranium and Lavender Limoncello
You might just want to put a glass down on the table, add some ice, and sip away. But, there's more.
Any cocktail worthy of the name has some sweet aspect to it. We often add simple syrup to make the beverage complete — yes, the best margarita has sugar syrup. But now in Wild Cocktails, the syrups aren't so simple any more:
Ginger
Wild Violet
Honeysuckle
Lilac
Rose Petal
Rhubarb and Ginger
After the syrups are considered, there's the need to address the equally important bitter element. That begins with a recipe for your own Wild Vermouth made with white wine, grappa, and 20 other components including meadowsweet flowers [from a London marsh, no less]. Wild Cocktails is, I should point out, a British book and draws total inspiration from the great British tradition of field and garden. There are ideas here for:
Wild Cherry Bitters
Raspberry and Scented Geranium Shrub
Oleo Saccharum [a sugar oil used in classic punches where oranges, lemons, bergamots are muddled with herbs and sugar; the resulting sugary oil is a cocktail aphrodisiac].
Once you've made these components, The Recipes chapter lets you combine, concoct, and imbibe with delight:
The Bee's Knees is made with Lavender Gin and Honey Simple Syrup

The Chelsea Fringe Collins uses Elderflower Liqueur and Rose Petal Syrup

The Rhubarb Collins employs Fennel-infused Gin and Rhubarb and Ginger Syrup

The Scented Geranium Sour calls for Scented Geranium Vodka, Lemon Verbena and Raspberry Syrup and Raspberry and Scented Geranium Shrub

The Pumpkin and Carrot Love-In requires Roasted Pumpkin and Carrot Juice Puree and Charred Sage Simple Syrup
I think by now you get the power of this book. These are beverage ideas of immense imagination. Yes, there is some prep work required. But, I think this is the perfect book for your next cocktail party. Instead of the standard Gin and Tonic or Margarita, take some time. Make some components and then present you guests with one of these marvels. It's cocktails on a higher level. You guests will love them. So will you. Hell, you don't even need guests. If you aspire to make the best in beverages, go wild, go Wild Cocktails.