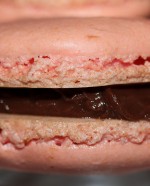 Dessert. It is, of course, the most important part of the meal. Why? Because it is your last memory of that dining experience. And, dessert is the one dish that you may be revisiting. I mean, at two in the morning, you don't go for another slice of steak or another spoonful of potato salad.
But you do go for one more modestly thin slice of pie. Or a bite of that cake. All of which can be awkward to cut and serve late at night. Not to mention noisy. That is why personalized desserts are so much better. Each one is "yours" from the first bite to the last. They can be snatched up, in the middle of the night, and consumed without disturbing anyone. I for one believe that explains the tsunami of cupcakes in the past few years. And now, we have the fortune to experience another wave: macarons.
Macarons come in two distinctive types. There is the classic coconut style, often spelled as macaroon with a double "o." Wonderful to eat, but I have to say they all look alike. And then, there are French macarons. No coconut, except possibly for the filling. Just two delicate halves, made with almond flour, and bonded in flavor by any filling of your choice.
Macaron stores now dot New York City and the nation. Macaron books have hit the stores. And lovely photos of macarons adore every recipe website. There's a reason: macarons have enormous visual appeal and are wonderful to eat. Any time of day. With your first coffee, at the end of lunch, to celebrate the end of a meal in a bevy of colors, or to snack on at two in the morning.
Why, just this morning I snuck back into bed and Suzen said, "How was it?"
"Was what?" I asked. "I just got up for some water."
"There's chocolate on your lips, you liar," she rolled over and back to sleep. I was so disturbed, I got up and had another one.
This macron recipe, with its detailed instructions is from Macarons by Cecile Cannone. She's French, wanted a NYC business, and knew that these treats were the gateway to success. And her book is a beautiful collect on recipes and techniques. If macarons are on your horizon, then this new book is definitely for you to consider.
The macaroon recipe is hers, the filling is ours. Cecile favors buttercream fillings but Suzen wanted ganache. And I obliged. I would never want to disappoint her. But, clearly, I need to work on finding invisible ganache.
French Meringue Macarons
Yield: 50 to 60 shells for 25 to 30 sandwich cookies
Ingredients:
2 ¾ cups [800 grams] almond flour
2 ¾ cups [350 grams] confectioners' sugar
1 cup egg whites [7 or 8 eggs] at room temperature
Pinch of salt
2 teaspoons powdered egg whites if the weather is humid
¾ cup [150 grams] superfine sugar
5-7 drops of food coloring
Preparation:
Line your baking sheets with parchment paper.
Blend the almond flour with powdered sugar in the food processor to make a fine powder (or sift together, discarding any large crumbs and adding a bit more almond flour and powder sugar as need to compensate for loss). Then sift eh mixture through strainer until it is a fine as you can get it. This keeps crumbs from forming o the macaron tops as they bake.
With wire whip attachment on the electric mixer, beat the egg whites with the salt and powdered egg white (if you are using them). Start slowly and then increase the speed as the white start to rise. Add the granulated sugar and food color. Beat until the egg whites form stiff peak and your meringue is firm and shiny.
Now, do this next step by hand. You must do this by hand to insure the right consistency of the batter. Pour the beaten egg white onto our almond flour mixture and gently fold them in, using a rubber spatula. Move your spatula from the bottom of the bowl to the edge with one hand, using your other hand to rotate the bowl. Now hit the spatula against the rim of the bowl until the batter falls in a wide ribbon when you raise the spatula. When you cannot see any crumbs of almond flour and mixture is shiny and flowing, you are ready to start piping.
The French have a specific word — macoronner — for this mixing process.
Fit our pastry bag with a number-I tip and fill with batter. Start by squeezing out a small amount of mix onto parchment-lined baking sheets to form 2 ½ inch circle. Leave 1 inch of space between the macarons so they will not touch while baking.
If the peak that forms on top of the batter does not disappear after piping, it means the batter could have been beaten a little more. To eliminate the peaks, tap the baking sheet on the tabletop, making sure to hold the parchment paper in place with your thumbs.
Let the piped macrons rest for 15 minutes. This rest process lets the batter dry a bit, and is the way each cookies bakes into a beautiful crust supported by that mesh of "feet" at the bottom.
Preheat the oven to 325˚F.
Bake for 14 minutes. After 5 minutes, open the oven door briefly to let the steam out.
Let the macrons cool complete on a rack before taking them off the parchment paper. Press the bottom of a cooled baked macron shell with your finger. It should be soft. If the bottom of the shell is hard, reduce the baking time for the rest of our macarons from 14 to 13 minutes.
Your macarons have been colored with tint of your choice. The filling is equally yours to decide: a buttercream, a ganache, or a jam.
Source: Macarons by Cecile Cannone