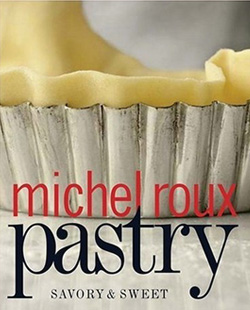 Have you ever looked at a perfect picture in a new cookbook and just wanted to lick the page?  And then you pause and say, "It's SOOO beautiful.  I could never do that myself.  And even if it came out looking great, would it taste great?"  Beauty to the eye and to the tongue is very hard to achieve.  Oh, and if it's a pastry recipe, just forget about it.  I know there is no way I could ever, ever achieve greatness.
Until now.  Michel Roux, whose English restaurant has had three Michelin stars for a mere twenty-three years, began his career some time ago in Paris.  He was fourteen and he was at his pastry station at 4AM, six days a week.  All I can say is, thank God for child labor.
Pastry: Savory and Sweet is beautiful, accurate and important.  The beauty shines in the many seductive pictures that just shout out, "Cook me."  The accuracy is demonstrated every time you try a recipe: Suzen and I have done a half dozen now and they all work.  And importance?  By following these recipes you can create perfect recipes.  Food just cannot taste better than this.
We began with the Asparagus and Red Pepper Tart.  It's a beautiful layered dish with rich flavor and striking colors.  And once you tried this recipe, you may certainly feel emboldened to try some variations: adding a different vegetable, some cheese, or varying the herbs will let fashion your own masterpiece.  Pastry has this wonderful way to inspire you to step out on your own, using the foundation of these recipes.
For a dinner party where we owed some friends a true feast, we did the Baked Apples in Pastry Cage.  And these baked apples are not topped with sugar and cinnamon.  No, Roux uses jasmine tea.  Combine the tea, the apple, and the sweet delight of his pâte brisée pastry, and you have a dish that makes people stop after the first bite.  The flavors are subtly dazzling.
And then there is the Boudin Noir and Apple Tart.  I took a first bite, and told Suzen that I could just imagine myself in cozy Parisian bistro.  "Just after having sex?" Suzen asked.  "Yes!" I agreed.  Okay, it's orgasmic food, with a combination of flavors and textures you've never experienced before.
The textures?  The book provides very well written recipes, and incredibly detailed photographs, for the full range of pastries: short, sweet, puff, pie, brioche, croissant, choux, pizza and phyllo.  The recipes are brilliantly simple and delicious.   If you fear attempting pastry, and many of us do, Pastry will build your confidence from the start.  Making pastry just does not seem formidable as you look at the simple steps and detailed photos that "make a movie" of the process.
The short pasty includes his pâte brisée .  The texture of this pastry is remarkable: firm enough to support complex contents like the Asparagus and Red Pepper Tart, yet soft enough to allow, say, apples and crust to simply merge into buttery sweetness in your mouth.  Outside of France, I have literally never tasted pastry like this.  And, you can make batches of it either to refrigerate for a few days or freeze for up to three months.  We have made some advance batches, but none has lasted for three months.
These are weekend recipes.  You can't go from start to finish in 30 minutes.  It will take you an afternoon.  So, put on a symphony or your favorite team, open a bottle of wine, and take some time.  At the end of the day, you'll be thrilled.  And, if you are like Suzen and me, you'll be leafing through the book again, figuring out what to try next weekend.  Pastry is a great cookbook.