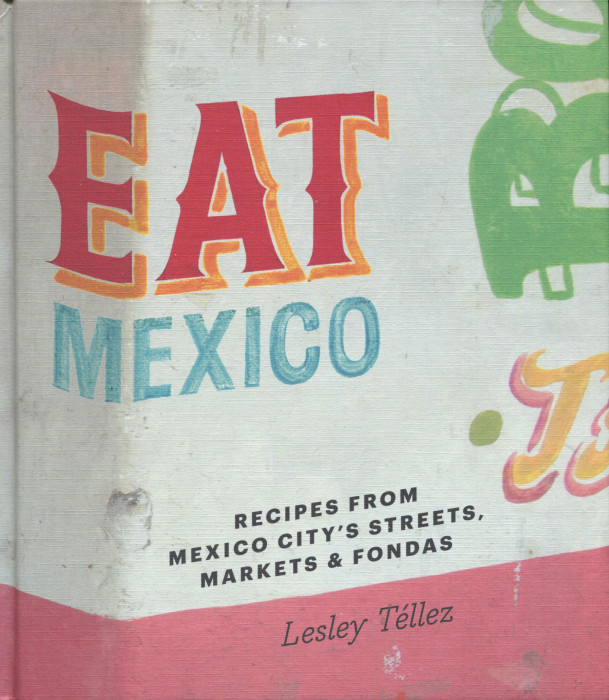 Today's TBT Cookbook Review is designed to fill a gap. This year has not seen a slew of good Mexican cookbooks. I just haven't found many that sparkle. But this one, from 2015, does give you that burst of inspired flavor.
---
Publishers are tributaries, their individual streams of books merging into a river of volumes constantly swirling. For the cookbooks, many fine ones appear each month offering visual appeal and a dozen recipes that I tag as "have to try someday." In any month, there may be a handful of excellent books, ones with recipes compelling me to the kitchen now, not tomorrow.
Once, every few months, there appears an exceptional book. Often unexpected, this book will be stunning with almost every page offering a dish that you can already taste. Or a dish that you cannot fathom and that pounds on your curiosity. The exceptional book is rare, treasured, and destined to be your companion for years.
Eat Mexico is that exceptional book. If you are a fan of Mexican food, then you will enjoy this book until you have worn it out. For this is one of those books where you stop on every page and ponder: do I make it now or next weekend. But make each dish you ultimately will.
What's the best single adjective to describe Eat Mexico: authentic, detailed, delicious? The best word to use here is intelligent. This is a carefully, artfully crafted book by a very skilled writer.
Lesley Tellez was destined to write this book. She grew up in California in a Hispanic family where, of course, she enjoyed Mexican food. But when she moved to Mexico City in 2009 with her husband, she learned she had been dining on Cal-Mex dishes. She was quite unprepared to encounter the ingredients and combinations that were everywhere she walked and looked and ate.
In her four years there, she explored, relishing the street food and markets that underpin the culinary world of Mexico City. She wrote a fascinating award-winning blog, started a company offering food tours, and now — back in the United States — has put her knowledge and expertise into this wonderful book.
Lesley acknowledges her work reflects her personal sampling of Mexico City fare, the food of the streets and the local markets. It's not every market or every street, but the ones she grew to know so well. You see her intensity in the headnotes for each recipe. These notes are not superfluous puff but wells of insight into how each dish is so carefully crafted.
Eat Mexico has five chapters, each devoted to a geography of cooking.
On the Streets presents the street food of one street, Calle Lopez, in the historic district but overlooked by the tourists. It's a street for the locals, offering eclectic dishes from the markets just at the ends of the street:
Chicken in Chipotle-Tomato Sauce on a Hot Tortilla

Roasted Poblano Pepper Tamales

Deep-Fried Shrimp Quesadillas with Avocado

Street Corn in a Cup [corn + lime + chile + cheese + more!]
In the Markets describes the food from the market types. The mercados are permanent buildings dividing into stalls — the classic city markets we Americans are now reviving. And there are the tianguis, tented outdoor markets roving from one neighborhood to the next. At the mercados, they sell food — produce, meats, sweets — but they will create a meal for you so you can sit on a plastic chair enjoying the intoxication of peppers. Each vendor offers his specialties:
Sweet Cinnamon-Spiked Coffee

Sweet Fermented Pineapple Juice

Shrimp and Octopus Cocktail

Fried Chorizo and Potato Sandwiches

Roasted Poblano Peppers with Mexican Cream
In the Fondas describes the many home style restaurants offering a three-course meal. Today's menu will be found taped onto stoplights and telephone poles. The meal, called a comida corrida or running meal, is designed to carry you from early afternoon all the way until a late supper. The offerings are substantial:
Creamy Corn Soup

Fideo Noodles in Chipotle-Tomato Sauce

Meatballs in Chipotle Sauce [meatballs of beef, pork and ham!]

Crispy Carrot Tacos
In the Country offers recipes from the outskirts and suburbs of Mexico City. How "out" is outskirts? Two hours or more. The City has sprawled and the people extend ever outward, adopting their lives and their cuisines to the distance of their daily lives. Here Lesly discovered:
Pineapple-Parsley Cooler [an agua fresca with herby sweetness]

Sour Cactus Fruit Salsa

Squash Flower and Vegetable Soup

Grilled Fish Tamales

Homemade Green Chorizo [see the picture at the end of this post!]
At Home is devoted to Lesley's cooking now. After four years in Mexico, she has returned, not to California, but to Queens. Now Lesley shops across the diverse, compacted cultures of her new home. Mexican, Asian, and Indian stores plus the many farmers markets supply ingredients and ideas for:
Cactus Fajitas with Cecina, Spinach and Mushrooms

Curried Cauliflower Tacos with Roasted Tomatillo Chutney

Pasta with Ancho Chiles, Mushrooms and Garlic

Amaranth and Pumpkin Seed-Crusted Chicken with Creamy Pomegranate Dipping Sauce
In Mexico City, Lesley discovered the immense spectrum of dishes there, both ones native to the city and dishes from the full extent of the country. In Eat Mexico, you get a superb array of these authentic recipes to enjoy — the colorful sauces and salsas do come with fire warnings! And you can do what Lesley has shown in the final At Home chapter. Take the flavors and wonders of Mexican cuisine, do a mix and match with your own comfort foods, and create new, hybrid dishes of distinction.
Lesley is a superior writer. Many of the recipes are long and there are steps that take you through an entire afternoon. Have no fear. Lesley is a trusted guide, and you are ever secure with her. But you are going to be happily surprised.
Eat Mexico will win awards, a sweet spot in your kitchen bookshelf, and a warm spot on your tongue.