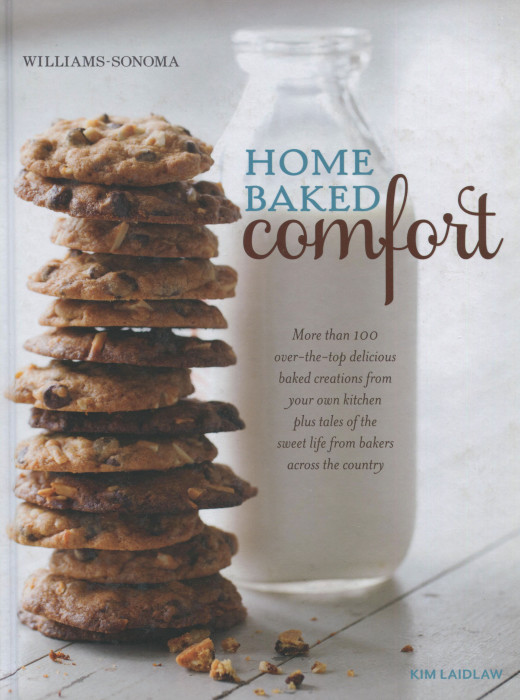 Today in the Catskills there is no doubt that fall has arrived. The leaves on the trees are turning golden by the hour. My hostas have yellowing edges. And my walkways are lightly dotted with fallen leaves. The lightly dotted will soon be totally covered.
Summer baking is often restricted to lighter things, say cookies or that berry pie. But with fall comes renewed interest in serious baking. Kim Laidlaw is one of those great cookbook authors you can trust. Her recipes work. Pick one, make it, and savor baking at its best. From 2015, here's my review of the updated version of Home Baked Comfort. Originally published in 2011, it was an instant smash and got a touch up in 2015.
---
Kim's story is simple. She loves the kitchen, loves being covered in flour, and just happens to have the distinctive talent to compose recipes — first in her home kitchen and then on paper to share with you. Home Baked Comfort includes not only her ideas but the "best" from famous bakeries and bloggers across America. So here you will find Homemade English Muffins from Huckleberry in Santa Monica and Brown Sugar-Cranberry Oat Muffins from Flour in Boston. Oh, there's the extravagant, it‑takes‑two‑days‑to‑make Mississippi Mud Pie from Baked in Brooklyn.
Home Baked Comfort has an excellent layout: one page recipes, typically with less than 10 ingredients and 4 or 5 clearly written paragraphs of directions. That clear writing is very helpful. It's easy to first read and understand a recipe here — you do read before you start, right? — and then to follow it step by step. If a recipe is not written "for use" you can easily get lost, distracted, or confused. Kim's writing is impeccable, a model for recipe presentation.
And then there are the photos, lovely, full page, seductive photos. Food photographer Eric Wolfinger was himself a cook and baker before putting down the spatulas and picking up a camera. His previous work appeared in Tartine Bread, nominated in 2011 for a James Beard Foundation Award for photography. These lovely photos are grand visual highway through Home Baked Comfort.
Here's a tour of our own of the book's chapters with some representative and wonderfully indulgent recipes:
Gooey Cinnamon Rolls

Bit-Size Bacon and Cheese Scones

Ham, Leek, and Gruyere Quiche
Dark and Sticky Gingerbread [made with coffee]

Bacon, Caramelized Onion and Gruyere Focaccia

Soft Pretzels with Grainy Mustard
Whoppie Pies with Salted Dulce de Leche

Honeyed Biscotti with Almonds and Dates

Pistachio-Almond Bars with Citrus Glaze
Coconut Cupcakes with Lemon Curd

Apple Whiskey Cake

Brown Butter Pound Cake with Fresh Fig Compote

Polenta Olive Oil Cake
Rhubarb turnovers

Apricot Pistachio Tart

Buttermilk Pie with Raspberries
Crème Brulee with Caramelized Blood Oranges

Spiced Persimmon Pudding

Savory Goat Cheese Soufflés
I noted above that the recipes take just a few paragraphs and a few ingredients to compose. Yet, as you can see from these recipe titles, you can create spirited dishes with multiple layers of texture and flavor. Recipes like that Brown Butter Pound Cake with Fresh Fig Compote offer you the chance, at home, to make an exceptional dessert. Home Baked Comfort is book you will turn to again and again. It's filled with what will become family favorites. You just have to start baking. And enjoying.