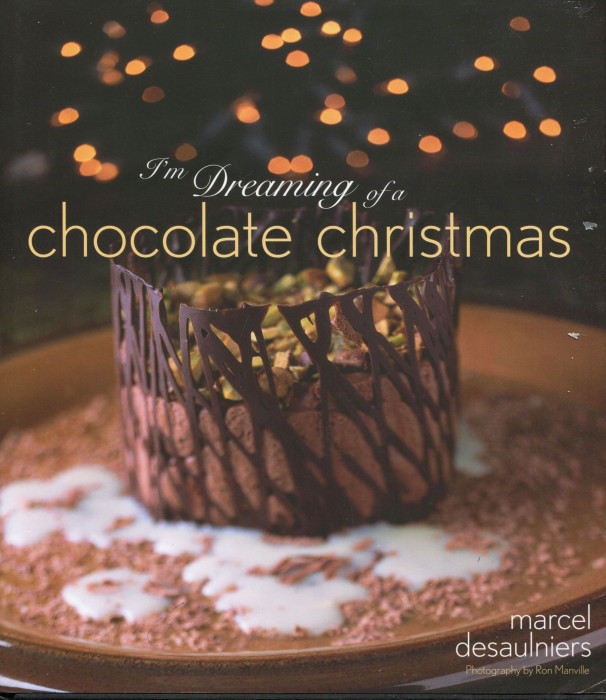 Yes, yes, yes. Christmas is over. But the holidays are not and you need desserts. Chocolate desserts. I've recommended this book twice before. Now I'm doing it again on TBT. Is my message getting thru: if you love chocolate, then …
---
Ordinarily, I want a book 10 years or older for Throwback Thursday. But Christmas approaches and this lovely 2007 book by chocolate guru Marcel Desaulniers is too important to wait. It can make your Christmas perfectly chocolate: white, dark, and in between.
Marcel has a dozen books to his credit, his iconic  Virginia restaurant ion, is Director Emeritus of the CIA, and was a US Marine. I cannot quite conceive of guns and ganache in the same human being, but Marcel is special.
So is this book. Lots of ideas here, some familiar like brownies and some vibrantly different. The picture at the end of the post is for the White Chocolate Banana Spice Mousse. Imagine that on your Christmas or New Year's table?
Beyond that mousse, there is a chocolate river of new ideas for you here:
Chocolate Dipped Pistachio Cigars

Christmas Breakfast Chocolate Sour Cream Crumb Cake

Chocolate Peppermint Bourbon Walnut Fudge

Mocha Madness Cookies
Cookies, candies, a pie or two, and lots of cakes appear in this book. It is the cakes where I think the man's heart can be found:
Chcolaty Fudge Cake with a Heavy Fudge Icing

White Chocolate Banana Walnut Christmas Log

Caramel Chocolate Chip Cake

Chocolate Cherry Cheesecake

Chocolate Mandarin Truffle Cake

White Chocolate Cranberry Cake

Chocolate Gingerbread Cake

Chocolate Orange Cheesecake
Besides regular chocolate, fruit does pop up page after page. And nuts. And white chocolate is a frequent guest in these recipes. The beautiful photos will tempt you to lick the page, but your common sense will suggest you go to your pantry instead.
This is a fun book. Actually, a year round book because the love of chocolate is not restricted to December. Really. You can eat it in the other eleven months, too, no matter what your mother or that nun in the first grade told you.
But, hey, it is December. Christmas approaches. Surprise you family and please yourself. Use one of these lovely ideas from a chocolate guru. A US Marine chocolate guru.