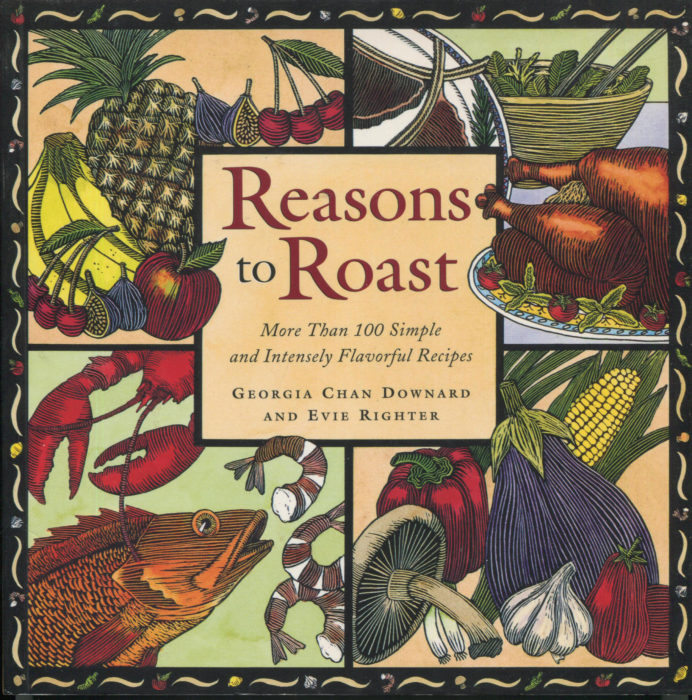 Today's TBT cookbook is from 1997. I chose Reason to Roast because of the Table of Contents.
When I say "roast" what do you think of? Roast chicken, roast salmon, roast beef? Oh, Beef Wellington? Which I have been asking my wife to make for 30 years. [All marriages have stress, so I won't dwell on this significant disappointment in my life.]
Actually, you can roast anything, just about anything. Which is why this book has chapters for:
Snacks and Starters
Soups
Shellfish and Fish
Poultry
Meat
Vegetables
Salads
Desserts
Now, I'm not going to rave about all of this book. The Poultry chapter, for example, has Roast Turkey. I think you've had that. No, it's the "other" chapters where this book is bright and interesting.
Why do veggies taste bad? They do to many of us. Actually, some people have two or three times the normal amount of taste buds and that extra sensitivity makes veggies taste over the top. A veggie, say a red pepper, seem to possess a single note of flavor that is blunt and overpowering. Raw veggies can be unpleasant. I don't care what your mother told you.
Now, if you roast that red pepper and put it in a salad or a soup — recipes suggested in this book — then the story changes. The harsh, frontal flavor is muted. The caramelization that occurs gives the sweetness that we all react to with glee. Yes, sugar is the one ingredient that we crave more than any other, thanks to our genes and millennia of hunting and gathering. Sugar is energy. And veggies can provide both energy and satisfying flavor when roasted.
The fun recipes here include:
Bourbon-Glazed Sweet Potato, Apple and Pecan Gratin [headed to our Thanksgiving table]

Chilled Red Pepper Soup with Feta and Dill

Curried Butternut Squash Soup with Cilantro Cream

Roasted Pear and Bacon Salad with Blue Cheese [no raw pear here, roasted]

Roasted Potatoes with Onion, Green Pepper and Pimento [in lieu of baked or mashed]

Roasted Soft-Shell Crabs with Creole Tartar Sauce [breaded and roasted instead of pan fried]
There are solid ideas here that will have you roasted more than meat. Roasting is more than meats the eye. I assure you.
You can still find this book on Amazon. It's kind of a hoot and that Bourbon-Glazed Sweet Potato Gratin is too good to pass up.