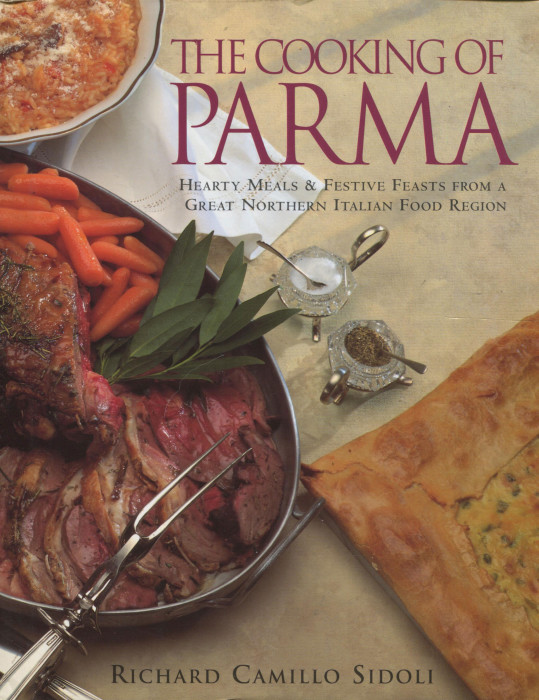 Nineteen years ago a lovely book, The Cooking of Parma by Richard Camillo Sidoli, arrived and was greeted with applause and awards. Parma, located astride the Parma River, is a very ancient city. Probably founded by Etruscans when Rome was at best a village, Parma is famed for its food — ham and cheese — as well as music and architecture.
Suzen and I had read The Cooking of Parma before we spent two nights there, walking the streets, eying the restaurants and guided by Richard to some of the intrinsic Parma recipes. Northern Italy is a cluster of medium sized cities, like Parma, that could be the very definition of civilization. Walk the streets on a warm spring or fall afternoon, when it is just warm and not hot, feel the breeze off the river, and smell the scents coming from the meat and cheese stores. Take that walk and you can quickly begin to appreciate the culinary richness of this city and how enjoyable life must be there.
Parma has an association, Parma Alimentare, that is the promotional food board for Parma and its many culinary arts. In 1996, Richard's The Cooking of Parma, received their top award. This book was cited for its authenticity in culture and culinary art. It's not just the ingredients, in this book. It's the techniques, too, techniques that generate very particular flavors and textures.
The origins of Richard's Parma knowledge? His grandparents, and one great grandparent, migrated to America from Parma. Richard's family meals were Parma meals. He watched and learned at the side of grandparents and parents. It was a "pinch" of this, a "scoop" of that. No written recipes, just living tradition.
The recipes here are his grandmothers' coupled with the expertise of chefs and cooks living in Parma. The result is a "regional" book that is replete with authenticity. Travel an hour outside of Parma, and you might not find any of these recipes. Walk the streets and you can still smell them.
Some of the very special recipes here include:
The Bomb: a hemisphere of rice stuffed with poultry

Salsa Verde: anchovies, capers, and herbs [but no cilantro!]

Stuffed Peppers: completed with rice, onions, peas, mascarpone and of course Parmigiano-Reggiano

Winter Squash Soufflé: more mascarpone and Parmigiano-Reggiano
Zucchini, spinach, mushrooms, peppers, cheese, and veal appear one page after the other. It is, surely, these veal recipes that accelerated the acclaim this book received:
Veal Shanks with Saffron Risotto

Breast of Veal: stuffed with, what else, herbs and mascarpone and Parmigiano-Reggiano

Roast Veal with Mixed Vegetables

Robust Veal Casserole with Polenta

Delicate Veal Casserole

Stuffed Veal Envelopes

Grilled Veal Steaks

Veal "Birds": stuff with Fontina or Munster
I have the impression that, if you are a young calf in Parma, you need to stay alert.
The Cooking of Parma deserved the attention and applause that first greeted it. With the passage of almost 20 years, this book has intensified importance as a library of authentic Parma dishes. As everywhere, local foods are threatened by big box stores, frozen dishes, and fast food outlets.
Yes, you can find McDonalds in Parma. Three of them. We did not eat there. Suzen and I did stay at a Best Western. But underneath that "international" layer, you can find great, great food in Parma. And if you cannot travel there, you can do the next best thing. Open up your copy of The Cooking of Parma and see what veal cuts are tucked away in your refrigerator.