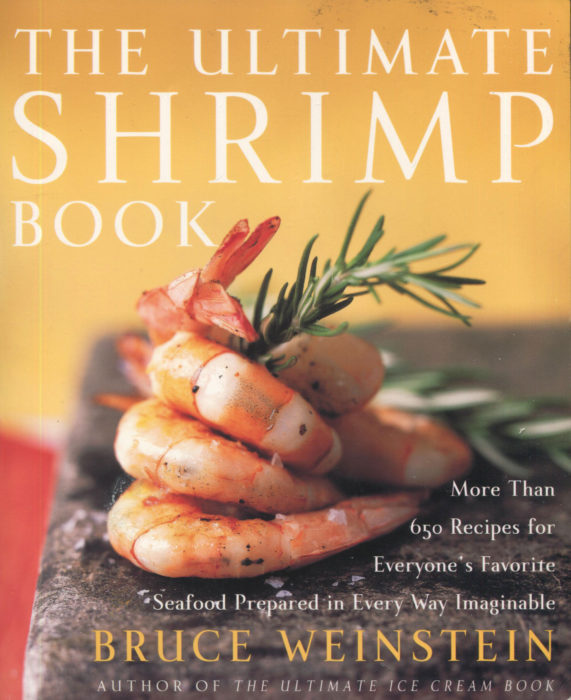 Oops. It's Friday and I wrote, but did not publish, the TBT cookbook review. Here it is, late but awesome.
Bruce Weinstein has been crafting wonderful books for twenty-one years. They span every aspect of dining from drinks to desserts. Oh, he tossed in a knitting book too.
There are 30 books in his portfolio, include a number in his "Ultimate" series. In 2002, he created this slim 248-page book. One with 650 recipes. How is that possible?
Options. Bruce loves options. His Shrimp Alfredo recipe comes with several variations:
Four-Cheese Shrimp Alfredo
Rock Shrimp Alfredo
Shrimp Alfredo Basilica
Shrimp Alfredo Carbonar
Shrim Alfredo Florentine
Shrimp Alfredo romana
Shrimp  Alfredo with Mushrooms
Shrimp Alfredo with Sun-Dried Tomatoes
The idea is obvious. Go to your freezer to pull out the shrimp. Go to your fridge or your pantry to and see what is there. Take bacon or tomatoes or peas or mushrooms and accelerate that basic recipe.
Bruce offers up not just delicious recipes but lovely history for each recipe. Take Fettuccine Alfredo. It was basically unknown in the US until 1927 when Douglas Fairbanks and Mary Pickford were on their honeymoon in Rome. They were photographed eating a pasta with cheese and butter. The craze in the US was started with one clever twist. The studio publicist did not want his stars eating "simple" food so he add cream to the dish in his story. Hence our Fettuccine Alfredo dishes that are so rich, so satisfying, and so memorable.
The recipes in this book come from around the world: Mexico, Hungary, Japan, China. You'll find classic recipes like Steak Diane and Pork Fried Rice converted to Shrimp Diane and Shrimp Fried Rice.
There are also some radiant recipes you've never seen, like Black Pepper Caramel Shrimp. Yes, caramel. It's a French twist coming to us via Viet Nam. And Bruce has variations for that caramel: how about adding some banana or some cinnamon.
Planning a dinner party that needs an elegant lift? Consider Shrimp Mousse with Hollandaise?
This is an ultimate book to be sure. We keep our copy on the kitchen bookshelf at eye level. It's a "grab and go" treasure chest of fast ideas packed with comfort. And shrimp.